Journal Information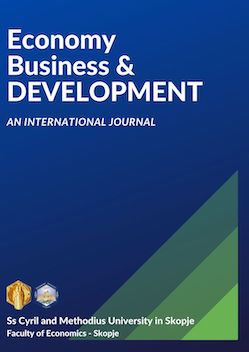 Economy, Business and Development: An International Journal (EB&D) is merged from Journal of Contemporary Economic and Business Issues (start-end: 2014-2020) (https://journals.ukim.mk/index.php/jeccf)
EB&D is an open access academic journal published two times a year (May and November), both in print and online version. The journal is owned by its publisher, the Faculty of Economics-Skopje, Ss. Cyril and Methodius University in Skopje (http://eccf.ukim.edu.mk/).
ISSN 2671-3462 (print version)
ISSN 2671-3470 (online version)
The Journal is indexed in GoogleScholar and is listed in SHERPA/RoMEO database of publishers' policies on copyright and self-archiving https://v2.sherpa.ac.uk/id/publication/38421. The Journal is a member of Crossref and provides DOIs for all published content as well as participates in Crossref Similarity Check service powered by iThenticate.
The Journal does not charge any fees (no submission fees, nor article processing charges or any other publishing fees). The Journal is completely supported by its publisher.