ЕДЕН ПРИМЕР НА ПРОДУКТИВНА РЕЦЕПЦИЈА НА НАРОДНАТА ПЕСНА "ТРБА ТРБИ ГЕВГЕЛИЈА"
Namita Subiotto

University of Ljubljana, Ljubljana, Slovenia
Keywords:
Macedonian folk songs, Bulgarian poetry, Leonid Jankov, Rumen Leonidov, productive reception
Abstract
The Macedonian folk song "Trba trbi Gevgelija" was made to honor Leonid Jankov (1878 - 1905), a rebel who fought against the Turkish (Otoman) army. The song refers to the events that occurred in 1905 in the village named Gjavato (Gevgelija region), when Leonid Jankov, fighting a battle, shot himself with the last bullet. A hundred years later, the song receives its remake in the writings of Rumen Leonidov, Bulgarian poet and grand grand son of Leonid Jankov. Following the traditional form of the son and the stories about the tragic death of his grand grand father, Rumen Leonidov writes a poem named "Ilinden, pesen za smrtta na Leonid voivoda" and publishes it in the collection "Slyapa nedela (2011) within its central part "Oproshteniya". This particular part of the collection is in the focus of the paper we present.
Downloads
Download data is not yet available.
References
Димитров, Людмил. 2011. Сляпа неделя: осмият ден от седмицата.
http://www.public-republic.com/magazine/2011/12/81107.php.
Leonidov, Rumen. 2009. Z vrha jezika. Ljubljana: Študentska založba.
Леонидов, Румен. 2011. Сляпа неделя, Пловдив: Жанет 45.
Mladenoski, Ranko. 2004. Синтеза на фолклорното и современото во циклусот
"Марко Крале" од Блаже Конески. Современост, 52 (1). 64-76.
Novak, Boris A. 2005. Metronom usode: baladni ritem Svetlane Makarovič. Zven in
pomen: študije o slovenskem pesniškem jeziku. Ljubljana:
Znanstvenoraziskovalni inštitut Filozofske fakultete. 152–162.
Oraić, Dubravka. 1988. Citatnost – eksplicitna intertekstualnost. Intertekstualnost &
intermedijalnost. Zagreb: Zavod za znanost o književnosti Filozofskog fakulteta
u Zagrebu. 121–156.
Саздов, Томе. 1966. Македонската народна поезија – краток преглед. Скопје:
Култура.
Саздов, Томе. 1997. Усна народна книжевност. Скопје: Детска радост.
Hrastelj, Stanka. 2012. Igranje, Ljubljana: Mladinska knjiga.
Трба трби Гевгелија: http://pesna.org/song.php?id=489.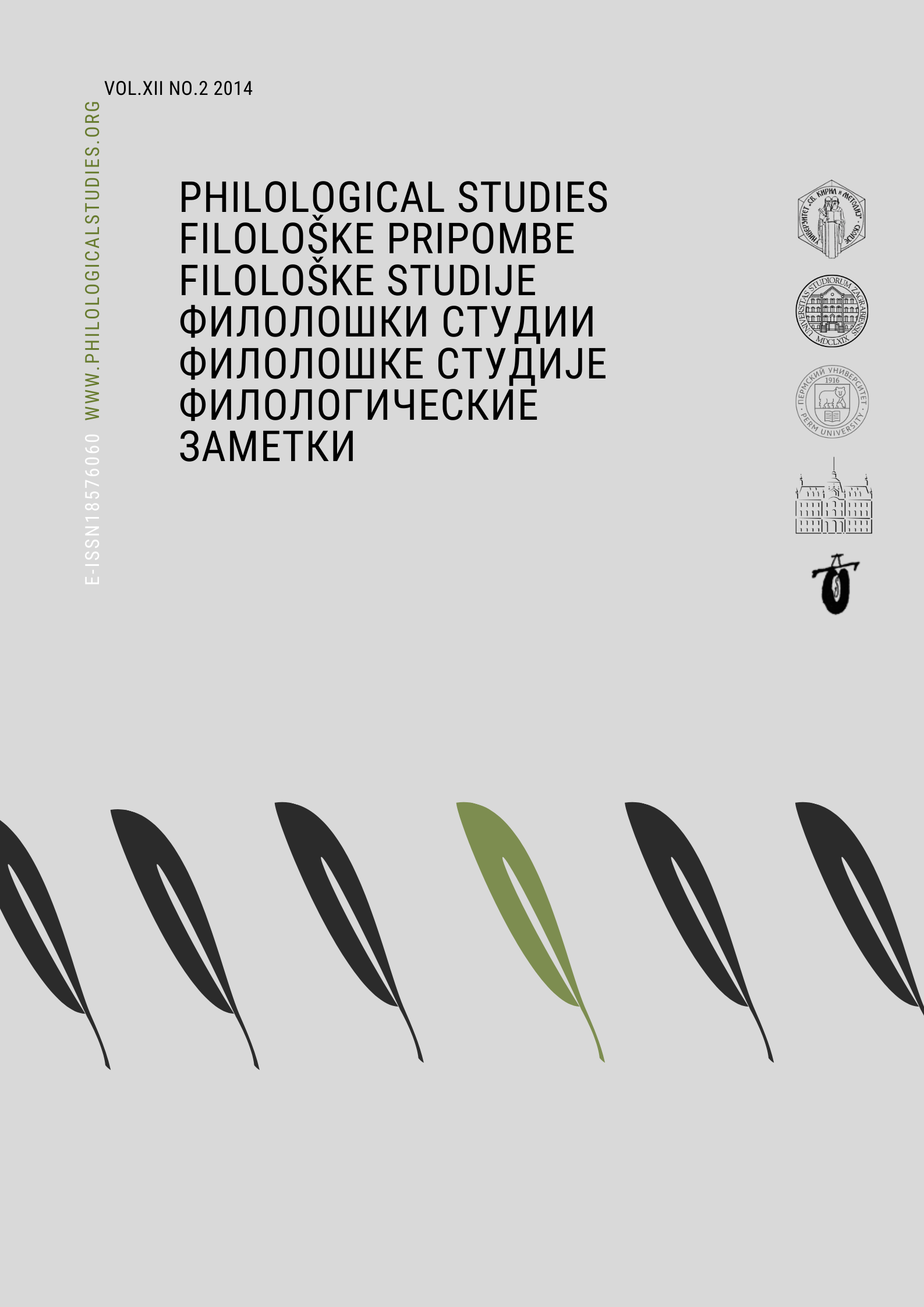 Section
Literature in Intercultural Context