THE COMPARATIVE STUDY OF THE CONCEPT OF HOME / MOTHERLAND IN THE IDIOLECTS OF THE POETS' OF RUSSIAN POST-REVOLUTION EMIGRATION WAVE
Svetlana R. Gabdullina

Institute of Public Policy The Russian Presidential Academy of National Economy and Public Administration; Institute of Linguistics and Intercultural Communication I.M. Sechenov First Moscow State Medical University Moscow, Russia
Keywords:
allusions, citationality, concept, cross-textual studies, cultural context, idiolect, intertextuality, lexical statistics
Abstract
The paper studies the topic of the influence of the cultural context on the poetry as well as the issue of a cross textual nature of a poetic text. It also considers the influence of life events on the linguistic picture of the world created by a poet made up of such elements as foreign language inclusions, cross cultural concepts, allusions, etc. The article provides comparative study of the concept of HOME and MOTHERLAND in the idiolects of the poets' of Russian post- Revolution emigration wave, i.e. from 1917 up to 1940. Among the poets whose works have been analyzed and whose poetical idiolects have been compared are Marina Tsvetaeva, Georgy Adamovitch, Ivan Bunin, Georgy Ivanov, Yury Ivask, Boris Poplavsky and others.
Downloads
Download data is not yet available.
References
Barkovskaya, Nina V. (2001). Literatura russkogo zarubezh'ya (1-ya volna) [The Literature of the Russian Abroad of the First Wave]. Ekaterinburg: AMB. (In Russian.)
Belyy, Andrey. (1922). Poeziya slova [The Poetry of the Word]. Petersburg: Epokha. (In Russian.)
Bunin, Ivan А. (1973). Stikhotvoreniya. Rasskazy. Povesti [Poems. Stories. Narratives]. Moscow: Khudozhestvennaya literatura. URL: https://ilibrary.ru/text/1018/p.1/index.html (accessed April 6, 2019). (In Russian.)
Gabdullina, Svetlana R. (2004). Kontsept DOM/RODINA i ego slovesnoe voploshchenie v individual'nom stile M. Tsvetaevoy i poezii russkogo zarubezh'ya pervoy volny (sopostavitel'nyy aspekt): Dis... kand. filol. nauk [The Concept of Home and Motherland and Its Verbalization in the Individual Style of Marina Tsvetaeva and in the Poetry of the Russian Abroad of the First Wave. The Comparative Aspect: PhD Thesis in Philology]. Moscow. (In Russian.)
Gippius, Zinaida. Net [No]. URL: https://slova.org.ru/gippiusz/net/ (accessed April 6, 2019). (In Russian.)
Grigoriev, Viktor P. (1975). K sporam o slove v khudozhestvennoy rechi [Approaching a Question of the Function of a Word in the Artistic Discourse]. In Grigor'ev, Viktor P. (Ed.). Slovo v russkoy sovetskoy poezii [A Word in the
Russian and Soviet Poetry]. Moscow: Nauka. 5-75. (In Russian.)
Grigoryev, Viktor P. (Ed.). (1979). Lingvistika i poetika [Linguistics and poetics].
Moscow: Nauka. (In Russian.)
Grigoryev, Viktor P. (Ed.) (1990). Ocherki istorii yazyka russkoy poezii XX veka.
Poeticheskiy yazyk i idiostil': Obshchie voprosy. Zvukovaya organizatsiya teksta
[The Notes on the History of the Language of 20 century. The Language of Poetry and the Idiostyle: General Issues. The Sound Structure of the Text]. Moscow: Nauka. (In Russian.)
Gul, Roman B. (1973). Odvukon': Sovetskaya i emigrantskaya literatura [A Two- horse Rider: The Soviet and the Immigrants Literature]. New York: Most. (In Russian.)
Ivanov, Georgiy. Eto zvon bubentsov izdaleka... [It's This Little Bells Jingle From the Distance...]. URL: https://www.stihi.ru/2009/03/08/198 (accessed April 6, 2019). (In Russian.)
Ivanova, S.A. (Compl. and Comment.). (1998). Russkaya Atlantida. Poeziya russkoy emigratsii. Mladshee pokolenie pervoy volny [The Russian Atlantis. The Poetry of the Russian Emigration of the First Wave. The Younger Generation of the First Wave]. Moscow: Intrada. (In Russian.)
Izgnanie. Poety russkogo zarubezh'ya [Exile. The Poets of the Russian Abroad]. (1999). Rostov-na-Donu: Feniks. (In Russian.)
Kreyd, Vadim P. (Compl. and Comment.). (1995). Vernut'sya v Rossiyu – stikhami... 20 poetov emigratsii: Antologiya [To Get Back to Russia – Via the Poetry... 20 Emigrant Poets: Anthology]. Moscow: Respublika. (In Russian.)
Kreyd, Vadim P. (Сompl. and Comment.). (1991). Kovcheg: Poeziya pervoy emigratsii [The Ark: Poetry of the First Wave of Immigration]. Moscow: Politizdat. (In Russian.)
Kristeva, Juliya. (1995). Bakhtin, slovo, dialog i roman. [Bakhtin, a Word, a Dialogue and a Novel]. [Translated by. G.K. Kosikov]. In Vestnik Moskovskogo universiteta. Ser. 9: Filologiya [Herald of of Moscow University. Ser. 9: Philology], No.1. 98-99. (In Russian.)
Kubryakova, Elena S. (2000). O ponyatiyakh mesta, predmeta i prostranstva [On the Concepts of Place, Subject and Space]. In Arutyunova Natalia D., Levontina Irina B. (Ed.). Logicheskiy analiz yazyka. Yazyki prostranstv. [Logical Analysis of Language. Languages of Space]. Moscow: Yazyki russkoy kul'tury. 84-92. (In Russian.)
Kupina, Nataliya A. (1995). Totalitarnyy yazyk: slovar' i rechevye reaktsii. [Totalitarian Language and the Speech Reactions]. Ekaterinburg; Perm: Izdatelstvo Ekaterinburgskogo universiteta. (In Russian.)
Lotman, Yuriy M. (1978). Dinamicheskaya model' semioticheskoy sistemy [The Dynamic Model of a Semiotic System]. In Uchenye zapiski Tartuskogo universiteta. Semiotika kul'tury. Trudy po znakovym sistemam [The Scholars Notes of Tartu University. The Semiotics of Culture. Works on Signs Systems].
Vol. 463. Tartu: Izdatel'stvo Tartuskogo universiteta. 18-34. (In Russian.) Tsvetaeva, Marina I. (1928). Posle Rossii, 1922–1925 [After Russia, 1922–1925].
Parizh: Povolotzky. (In Russian.)
Tsvetaeva, Marina I. (1995). Sobranie sochineniy: V 7 tomah [The Works in 7Volumes]. Mnukhin L.A., Saakyants Anna A. (Compl. and Comments.). Moscow: Ellis Lak. (In Russian.)
Vatsuro, Vadim E. (1994). Zapiski kommentatora [The Notes of a Commentator]. Sankt-Petersburg: Akademicheskiy proekt. (In Russian.)
Vitkovskiy, Evgeniy V. (Ed.). (1995). «My zhili togda na planete drugoy...»: Antologiya poezii russkogo zarubezh'ya. 1920–1990 [We Used To Be Living on the Planet Unlike. 1920–1990]. Of 4 parts. Moscow: Moskovskiy rabochiy. (In Russian.)
Zhenett, Zherar. (1998). Figury [The Shapes.]. Vol.1–2. Moscow: Izdatel'stvo imeni Sabashnikovykh. (In Russian.)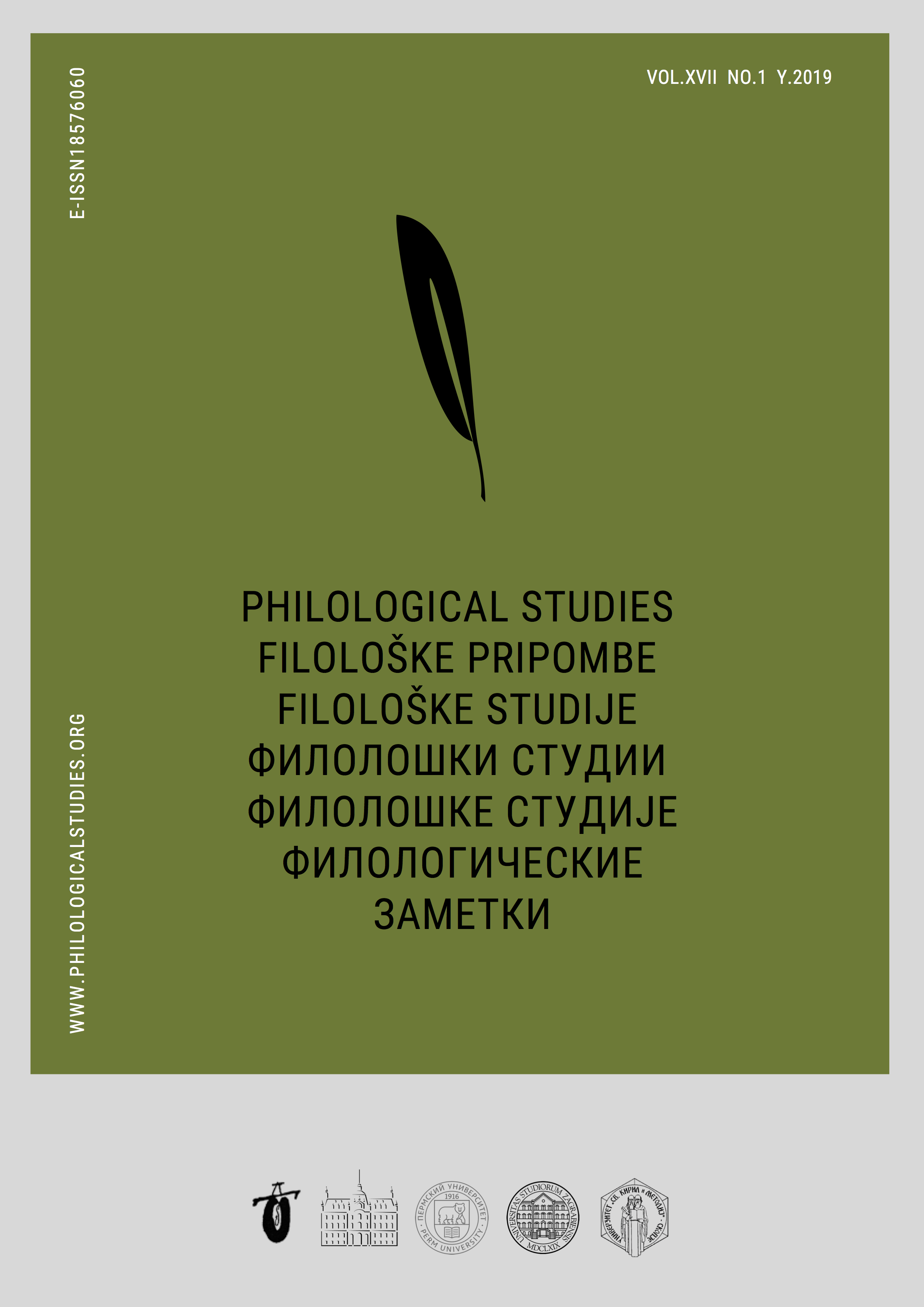 Section
Literature in Intercultural Context