RUSSIAN FOLKLORE SONGS OF THE UDORSKY DISTRICT OF KOMI REPUBLIC IN THE CONTEXT OF THE NORTH RUSSIAN TRADITION
Svetlana S. Musanova

Laboratory of Development of Ethnocultural Education Komi Republican Institute of Education Development Syktyvkar, Russia
Keywords:
folklore songs, variant, motive, tradition
Abstract
This article presents analysis of Russian-language folklore songs of Udorsky Komi. The texts where recorded on the territory of the Udorsky district of Komi Republic in 1988–1999 and stored in Folklore archive of the Syktyvkar State University of Pitirim Sorokin. The archive contains in total 24 plots recorded in 63 variants, the repertoire includes round dance songs, dance tunes and pripevka (short songs). Mezen and Pinezhye had big influence on formation of song tradition of Udora. Udorsky ethno-regional tradition contains both popular and rare Russian folk lyrics. The comparison with song texts from the Russian North shows high degree of their similarity (actually – identity). In the same time, udorsky variants of Russian songs have interesting contaminations of motives, which appeared as a result of long functioning in Komi culture. However, the influence of the Komi tradition is not manifested at the language level: almost all folklore songs were performed and recorded without significant language distortions and adaptations.
Downloads
Download data is not yet available.
References
Kolpakova, Natalia P. (Ed.). (1963). Pesni Pechory [Songs of Pechora]. Moscow; Leningrad: Izdatel'stvo Akademii nauk SSSR. (In Russian.)
Kolpakova, Natalia P., Dobrovolsky, Boris M., Mitrofanova, Vera V. et al. (Compls.). (1967). Pesennyj fol'klor Mezeni [Song folklore of Mezen]. Leningrad: Nauka. (In Russian.)
Mekhnetsov, Anatoly M. (Ed.), Lobkova, Galina V., Korolkova, Inga V. et al. (Compls.). (2005). Narodnaya tradicionnaya kul'tura Vologodskoj oblasti [National traditional culture of the Vologda region]. T. 1. Pt.1. Vologda: Oblastnoj nauchno-metodicheskij centr kul'tury i povysheniya kvalifikacii. (In Russian.)
Mikushev, Anatoly K. (1995). Komi narodnye pesni [Komi national songs]. Syktyvkar: Komi knizhnoe izdatel'stvo.( In Russian.)
Ornatskaya, Tamara I. (1963). Russkaya pesnya na Vashke [The Russian song on Vashka]. In Istoriko-filologicheskij sbornik. Issue 8. Syktyvkar: Komi knizhnoe izdatel'stvo. 161-173.
Razumova, Alexandra P., Koski, Terttu A. (1971). Russkie narodnye pesni Karel'skogo Pomor'ya [Russian national songs of the Karelian Pomorie]. Leningrad: Nauka. (In Russian.)
Savel'eva, Galina S., Kaneva, Tatiana S., Panyukov, Anatoly V. (2008). Pesennaya tradiciya Udory: audioprilozhenie [Song tradition of Udora: audioapplication]. In Art, No. 1, 189-191. (In Russian.)
Sheyn, Pavel V. (1898). Velikoruss v svoih pesnyah, obryadah, obychayah, verovaniyah, skazkah, legendah i t. p. [Velikoruss in his songs, ceremonies, customs, beliefs, fairy tales, legends, etc.]. Saint Peterburg: Tipografiya Imperatorskoj Akademii nauk. (In Russian.)
Sobolevskiy, Aleksey I. (1898). Velikorusskie narodniye pesni [Great Russian national songs]. T. IV. Saint Petersburg: Tipografiya Imperatorskoy Akademii nauk. (In Russian.)
Sobolevskiy, Aleksey I. (1899). Velikorusskie narodniye pesni [Great Russian national songs]. T. V. Saint Petersburg: Tipografiya Imperatorskoy Akademii nauk. (In Russian.)
Sobolevskiy, Aleksey I. (1902). Velikorusskie narodniye pesni [Great Russian national songs]. Saint-Petersburg: Tipografiya Imperatorskoy Akademii nauk. (In Russian.)
Vlasov, Andrey N. (Ed. and Compl.). (2002). Staroobryadcheskij centr na Vashke. Ustnaya i pis'mennaya tradiciya Udory: Materialy i issledovaniya [Old Believers' center on Vashka. The oral and written tradition of Udora]. Syktyvkar: Izdatel'stvo Syktyvkarskogo gosudarstvennogo universiteta. (In
Russian.)
Vlasov, Andrey N., Bilchuk, Zinaida. N., Kaneva, Tatyana S. (Compls.) (1992). A v
Ust'-Tsil'me poyut: traditsionniy pesenno-igrovoy fol'klor Ust'-Tsil'my [In Ust'-Tsil'ma they sing: traditional song and game folklore of Ust'-Tsil'ma]. Saint Petersburg: Inka. (In Russian.)
Zherebtsov, Lubomyr N. (1972). Hozyajstvo, kul'tura i byt udorskih komi v XVII – nachale XX v. [Economy, culture and life the Komi's of Udora in XVII – the beginning of the 20th century]. Moscow: Nauka. (In Russian.)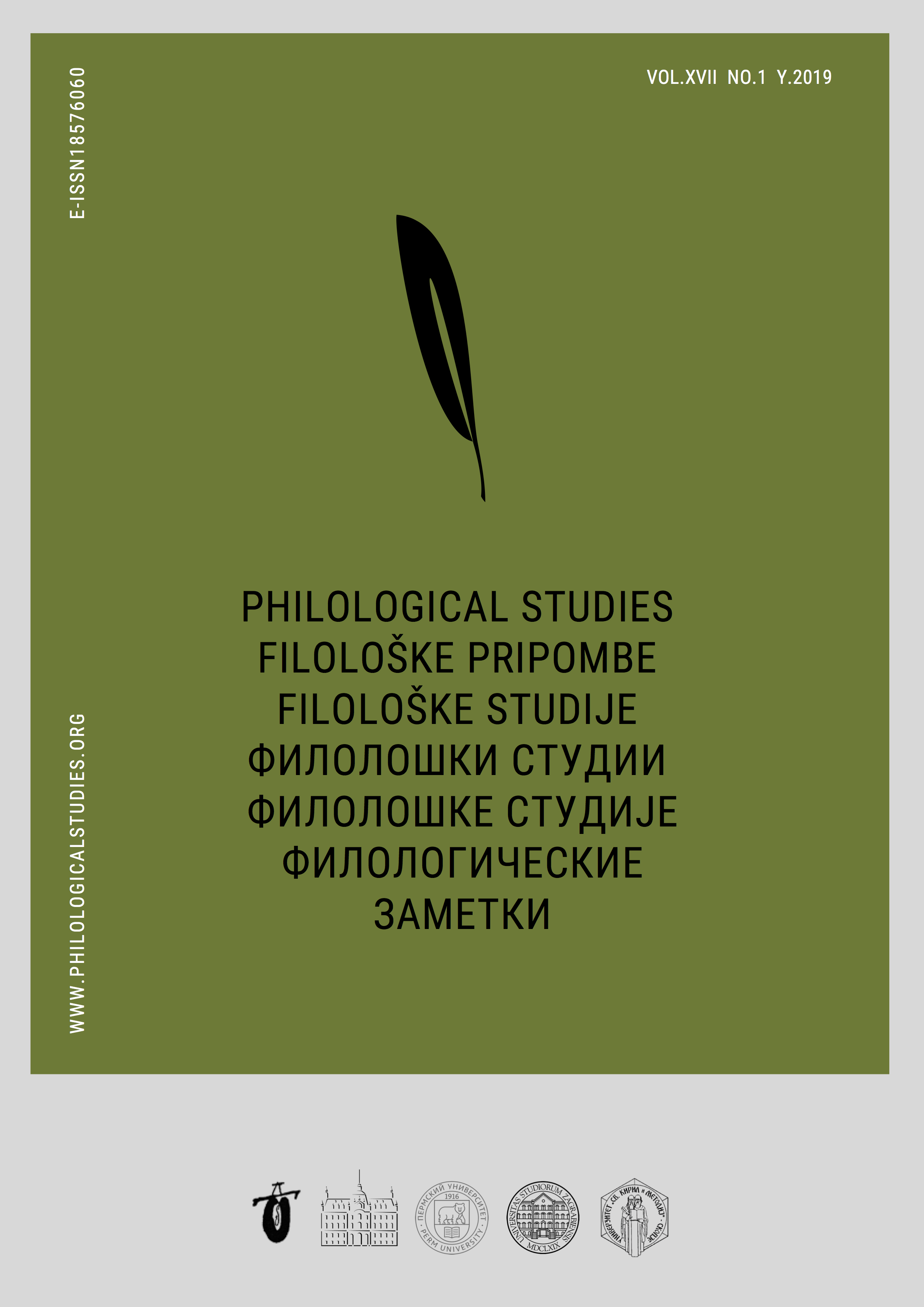 Section
History and Philology