ЗА ПРЕВОДОТ НА НЕКОИ СПЕЦИФИЧНИ КУЛТУРНИ ФЕНОМЕНИ ОД ГЕРМАНСКИ НА МАКЕДОНСКИ ЈАЗИК ВО ШНИЦЛЕРОВАТА НОВЕЛА "ПОРУЧНИКОТ ГУСТЛ"
Darinka Marolova

University of Stip, Macedonia
Keywords:
specific cultural phenomenon, literary translation, literary translator, communication
Abstract
This article offers an analysis from a translational perspective of some specific cultural phenomena present in literature. The focus is placed on the novella Lieutenant Gustl by Arthur Schnitzler, translated into Macedonian by Marina Nishliska. The paper begins with the term specific cultural phenomenon, and then follows a critical review of methods used in the novel for overcoming problems when translating the specific cultural phenomenon. Lexemes of material culture, differences in the usage of capital letters and some communication phenomena (such as direct addressing, usage of vocative and vulgarisms as lexical variations from diastratic aspect) are taken in for analysis. Where translation does not meet the criteria of quality, better solutions are offered for translating such phenomena.
Downloads
Download data is not yet available.
References
Albrecht. Jörn. 1998. Literarische Übersetzung: Geschichte-Theorie-Kulturelle
Wirkung. Darmstadt: Wiss. Buchgesellschaft
Assmann. Aleida. 2006. Einführung in die Kulturwissenschaft. Grundbegriffe,
Themen, Fragestellungen. Berlin: Erich Schmidt
Gerzymisch-Arbogast. Heidrun. 1994. Übersetzungswissenschaftliches
Propädeutikum. Tübingen & Basel: Francke
Hansen. Doris. 1996. Zum Übersetzen von Kulturspezifika in Fachtexten. In:
Kelletat, Andreas F. (Hrsg.): Übersetzerische Kompetenz. Beiträge zur
universitären Übersetzerausbildung in Deutschland und Skandinavien. Frankfurt
am Main etc.: Peter Lang, 63–78
Hönig. G. Hans. & Kußmaul. Paul. 1982. Strategie der Übersetzung. Ein Lehr- und
Arbeitsbuch. Tübingen: Narr
Jäger. Gert. 1975. Translation und Translationslinguistik. Linguistische Studien.
Halle (Saale): Niemeyer
Koller. Werner. 2001. Einführung in die Übersetzungswissenschaft. 6. Aufl.
Wiebelsheim: Quelle & Meyer
Маролова. Даринка. 2013. Културни специфики во комуникацијата. Зборник
на трудови од научниот собир "Македонскиот јазик како средство за комуникација и како израз на културата". кн. 23. Скопје: Институт за
македонски јазик "Крсте Мисирков", 221-226
Маролова. Даринка. 2013. Затворање на лексичките празнини во
македонскиот јазик преку литературниот превод. 42. Меѓународен
симпозиум на книжевните преведувачи на Македонија "Македонскиот
јазик во книжевниот превод". (26-28.08.2013). Скопје: Сојуз на
литературни преведувачи на Македонија
Nord. Christiane. 1989. Textanalyse und Übersetzungsauftrag. In: Königs, F. G.
(Hrsg.) Übersetzungswissenschaft und Fremdsprachenunterricht. Neue Beiträge
zu einem alten Thema. München: Goethe-Institut, 95-119
Nord. Christiane. 1993. Einführung in das funktionale Übersetzen. Am Beispiel von
Titeln und Überschriften. Tübingen & Basel: Franke
Paepcke. Fritz. 1994. Textverstehen-Textübersetzen-Übersetzungskritik. In: SnellHornby, M. (Hrsg.): Übersetzungswissenschaft - Eine neue Orientierung. Zur
Integrierung von Theorie und Praxis. Tübingen & Basel: Francke, 106-132
Sager. C. Juan. 1994. Die Übersetzung im Kommunikationsprozess: der Übersetzer
in der Industrie (Deutsche Fassung von Kußmaul, P.). In Snell-Hornby, M.
(Hrsg.): Übersetzungswissenschaft - Eine Neuorientierung. Zur Integrierung von
Theorie und Praxis. Tübingen & Basel: Francke, 331-347
Schnitzler. Arthur. 1995. Leutnant Gustl. In: Schnitzler, A. Leutnant Gustl &
Fräulein Else. Frankfurt am Main: Fischer
Snell-Hornby. Mary. 1994. Übersetzen, Sprache, Kultur. In Snell-Hornby, M.
(Hrsg.): Übersetzungswissenschaft - Eine Neuorientierung. Zur Integrierung von
Theorie und Praxis. Tübingen & Basel: Francke, 9-29
Шницлер. Аrtur. 2000. Поручникот Густл (превод: Марина Нишлиска). Во:
Мајсторски раскази од германско-јазичното подрачје. Скопје: Сигмапрес,
44-70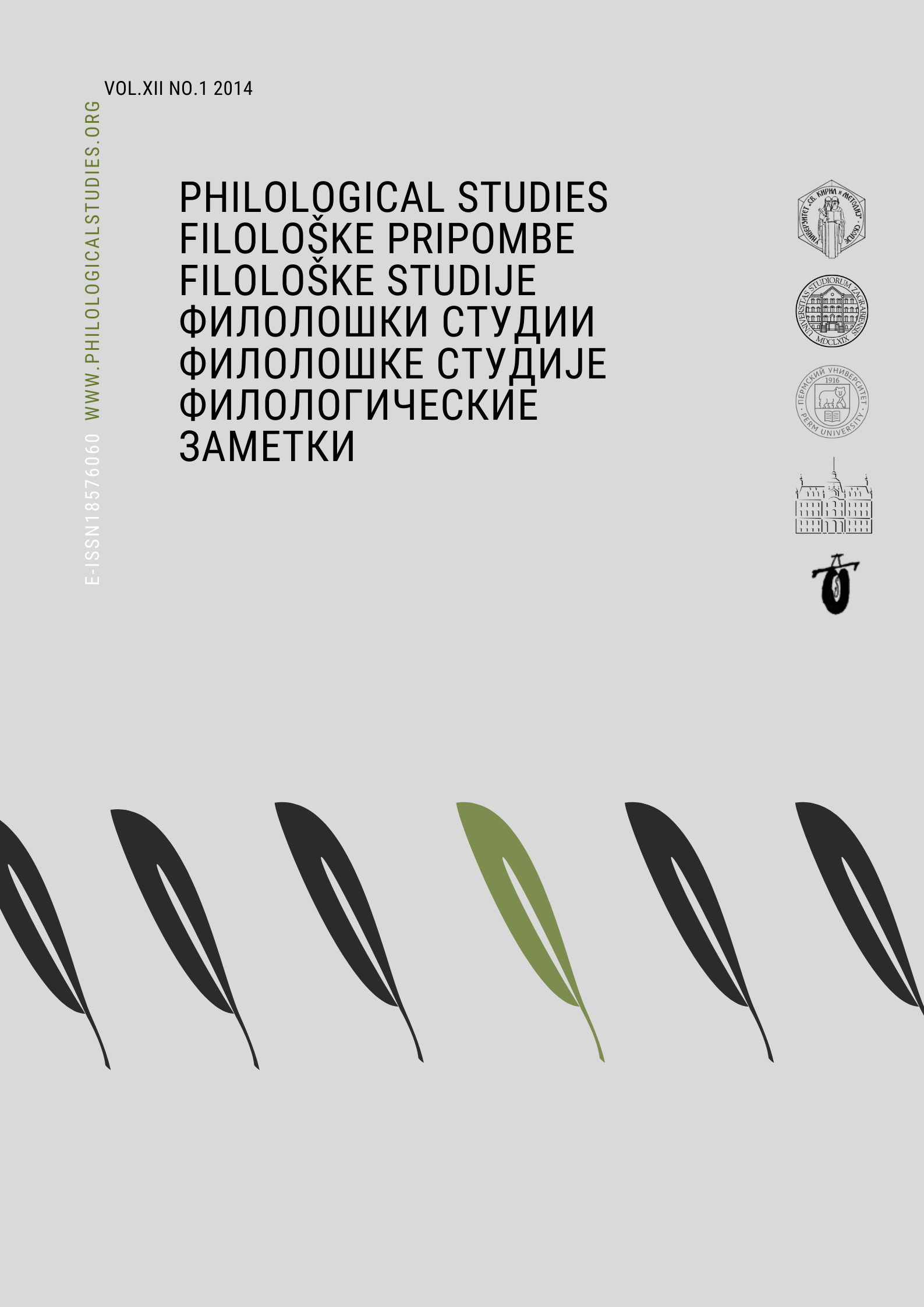 Section
The 'word' in Historical-Cultural Contexts