MACEDONIAN LITERATURE IN THE CONTEXT OF SLAVIC LITERATURES
Alla G. Šešken

Moscow, Russia
Keywords:
Macedonian Literature, accelerated development of literature, Social Realism, Surrealism, Symboysm, Poetry, Prose, Genre Systems, Versification System, Iambus, Literary Translation, Literary Influence, Blazhe Koneski, Zhivko Chingo
Abstract
Macedonian Literature is the youngest among all the Slavic Literatures at the same time it has its ancient roots. After 1945 whwn Macedonians had its ancient roots. After 1945 when Macedonians had established their own State as a part of Federal Republic of Yugoslavia, Macedonian Literature finally had an opportunity for intensive growth and Macedonian language had standardized its norms. During the same period Modern system of genres in Macedonian Literature has been created. The literary classics has appeared soon after and Macedonian literary tradition has been enriched by several new names – Blazhe Koneski, Zhivko Chingo, Aco Shopov, Petre M. Andreevski. Macedonian Literature has been based on local folklore and has assimilated the experience of world and Slavic Literatures.
Downloads
Download data is not yet available.
References
Аганина, Л.А., Челышев, Е.П. 1993. Факторы интеграции особой
межлитературной общности в рамках единого государства (на примере
Индии). В: Проблемы особых межлитературных общностей. Москва. С.
85–87.
Бицилли, П.М. 1996. Избранные труды по филологии. Москва.
Ѓурчинов, Милан. 1998. Странските влиjаниjа како компаративен книжевен
проблем Во: Компаративни студии. Скопjе. С. 121–122.
Ѓурчинов, Милан. 2002. Блаже Конески, стожерна личност на епохата. Во:
Делото на Блаже Конески. Остварувања и перспективи. Скопjе. С. 37–50.
Дюришин, Д. 1993. Межлитературные общности как конкретизация
закономерностей мировой литературы. В: Проблемы особых
межлитературных общностей. Под ред Д. Дюришина. Москва. С. 9–63.
Евстратова, А.Е. 2002. Македонская литература в общеюгославских
эстетических дискуссиях 1950–1960-х годов. В: Славяноведение. №5. С.
50–57.
Кравцов, Н.И. 1973. Проблемы сравнительного изучения славянских
литератур. Москва.
Поспелов, Г.Н. 1988. Стадиальное развитие европейских литератур. Москва.
Старделов, Г. 1990. Живко Чинго или меѓу первиот и шестиот ден. Во:
Македонскиот расказ. Скопjе. С. 442.
Тодоровски, Г. 1958. Пушкин на македонском языке В: Пушкин. Исследования
и материалы. Т. II. Москва-Ленинград. С. 445–449.
Шешкен, А.Г. 2002. Восприятие творчества А.С. Пушкина в Македонии. В:
А.С. Пушкин и мир славянской культуры. Москва. С.73–79.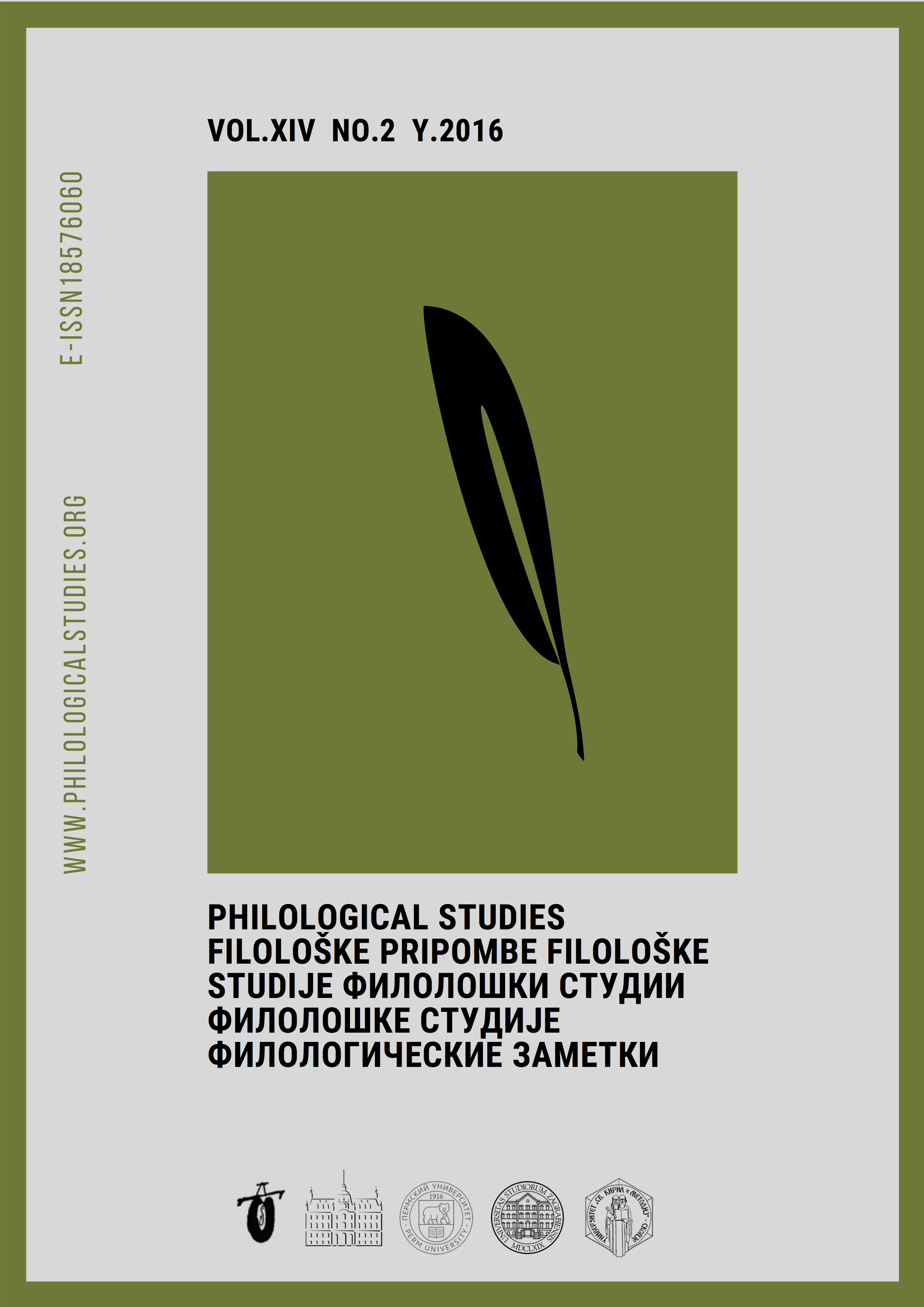 Section
Literature in Intercultural Context