VALUES OF VERBAL PREFIXES IN SLOVENIAN
Matej Šekli

Faculty of Philology, University of Ljubljana, Slovania" Institute for Slovenian Language, Slovenia
Keywords:
semantic change, weakening of lexical meaning, verbal prefix, lexical aspect, grammatical aspect, Slovene
Abstract
In the article the process of gradual weakening of spatial lexical meaning of verbal prefixes which took place in late Proto-Slavic is discussed. Consequently, in the Slavic languages three types of verbal prefix meaning occur (i.e. spatial meaning, lexical and grammatical aspect). Following this methodological frame, the existing typology of verbal prefix meanings of prefixed verbs with non- lexicalized meaning in Slovene is presented.
Downloads
Download data is not yet available.
References
Bajec, Anton. 1959. Besedotvorje slovenskega jezika IV: Predlogi in predpone. Ljubljana: Slovenska akademija znanosti in umetnosti, Inštitut za slovenski jezik.
Bezlaj, France. 1976, 1982, 1995, 2005, 2007. Etimološki slovar slovenskega jezika I–V. Ljubljana: Slovenska akademija znanosti in umetnosti, Inštitut za slovenski jezik ZRC SAZU.
Będkowska-Kopczyk, Agnieszka. 2012. Sematic and grammatical features of o-/ob- in verbs of emotion in Slovene. Jezikoslovlje 13/1. 19–39.
Będkowska-Kopczyk, Agnieszka. 2013. Dispersed motion metaphors of emotion in Slovene: A cognitive grammatical analysis of the prefix raz- in verbs of emotional experience. Space in South Slavic. Ur. Ljiljana Šarić. Oslo Studies in Language 5/1. 91–113.
Comrie, Bernard. 1976. Aspect: An Introduction to the Study of Verbal Aspect and Related Problems. Cambridge: University Press.
Delbrück, Berthold. 1893. Grundriss der vergleichenden Grammatik der indogermanischen Sprachen, III/1. Vergleichende Syntax der indogermanischen Sprachen. Strassburg: Karl J. Trübner.
Dular, Janez. 1983. Napovedljivost vezave iz morfemske sestave glagolov. Slavistična revija 31/4. 281–287.
Eisenberg, Peter idr. 1998. Die Grammatik. Mannheim, Leipzig, Wien, Zürich: DUDEN.
Ferraresi, Gisela. 2014. Grammatikalisierung. Heidelberg: Universitätsverlag Winter.
Fleischer, Wolfgang, Barz, Irmhild, 42012 (11969): Wortbildung der deutschen Gegenwartssprache. Berlin, Boston: Walter de Gruyter.
Hajnšek-Holz, Milena. 1978. O pomenih slovenskih predpon. XIV. seminar slovenskega jezika, literature in kulture. Ur. Jože Koruza. Ljubljana: Pedagoško-znanstvena enota za slovanske jezike in književnosti. 33–58.
Hopper, Paul J., Traugott, Elisabeth Closs. 1993 (2003). Grammaticalization. Cambridge: University Press.
Ilc, Gašper. 2014. Gramatikalizacija prostorskih členic v angleščini in slovenščini. Slavistična revija 62/3. 309–319.
Исаченко, Александр В. 1960. Грамматический строй русского языка в сопоставлении с словацким: Морфология II. Bratislava: Vydateľstvo Slovenskej akadémie vied.
Jakopin, Franc. 1966. K tipologiji ruskega in slovenskega glagola. Jezik in slovstvo 11/6. 176–182.
Kopriva, Silvo. 1989. Latinska slovnica. Maribor: Obzorja.
Krvina, Domen. 2015a. Glagolski vid v sodobni slovenščini. Doktorska disertacija. Ljubljana.
Krvina, Domen. 2015b. Vidsko razmerje in vidskorazmerni potencial predponskih obrazil v slovenščini. Slovenski jezik – Slovene lingustic studies 10. 113–126.
Lehmann, Christian. 11982 (22002). Thoughts on Grammaticalization. Erfurt: Seminar für Sprachwissenschaft.
LIV = Lexikon der indogermanischen Verben: die Wurzeln und ihre Primärstammbildungen. 22001 (11998). Ur. Helmut Rix. Wiesbaden: Dr. Ludwig Reichert Verlag.
Meier-Brügger, Mihael. 32010 (12001). Indogermanische Sprachwissenschaft. Berlin, New York: Walter de Gruyter.
Meillet, Antoine. 1912. L'évolution des formes grammaticales. Bologna: Zanichelli, Paris: Alcan, London: Williams et Norgate.
Merše, Majda. 1995. Vid in vrstnost glagola v slovenskem knjižnem jeziku 16. stoletja. Ljubljana: Slovenska akademija znanosti in umetnosti.
Miklosich, Franz. 1883. Vergleichende Grammatik der slavischen Sprachen: IV. Syntax. Wien.
Orešnik, Janez. 1994. Slovenski glagolski vid in univerzalna slovnica / Slovene verbal aspect and universal grammar. Ljubljana: Slovenska akademija znanosti in umetnosti.
Petr, Jan idr. 1986. Mluvnice češtiny 2: Tvarosloví. Praha: Academia.
Plungjan, Vladimir Aleksandrovič, 2016: Opća morfologija i gramatička semantika: Uvod u problematiku. Preveo Petar Vuković. Zagreb: Srednje Europa.
Quirk, Randolph idr. 1972. A Grammar of Contemporary English. London: Longman.
Ramovš, Fran. 1952. Morfologija slovenskega jezika. Ljubljana: DZS.
Słoński, Stanisław. 1937. Funkcje prefiksów werbalnych w języku starosłowiańskim (starobułgarskim). Warszawa: Nakładnistwo Towarzystwa Naukowego Warszawskiego.
Saussure, Ferdinand de. 1896. Accentuation lituanienne. Anzeiger für indogermanische Sprach und Altertumskunde. Beiblatt zu den Indogermanischen Forschungen. 6. 157–166.
Snoj, Marko. 32016 (11997, 22003). Slovenski etimološki slovar. Ljubljana: Založba ZRC.
SSKJ 2, 2014: Slovar slovenskega knjižnega jezika 2. Slovenska akademija znanosti in umetnosti, Znanstvenoraziskovalni center Slovenske akademije znanosti in umetnosti, Inštitut za slovenski jezik Frana Ramovša. Ljubljana: Cankarjeva založba.
Stempel, Reinhard. 1999. Aspekt und Aktionsart, Tempus und Modus: Zur Strukturierung von Verbalsystem. Indogermanische Forschungen 104. 23–44.
Šekli, Matej, 2011a: Besedotvorje praslovanskega glagola v primerjalnojezikoslovni luči. Philological Studies 2011/1. 129–147.
Šekli, Matej. 2011b. Besedotvorni pomeni nesestavljenih izpeljanih glagolov v (pra)slovanščini. Globinska moč besede: Red. prof. dr. Martini Orožen ob 80-letnici. Zbirka Zora 80. Uredil Marko Jesenšek. Bielsko-Biała, Budapest, Kansas, Maribor, Praha. 32–45.
Šekli, Matej. 2012. Praslovanski besedotvorni vzorci izpeljave drugotnih nedovršnih glagolov. Jezikoslovni zapiski 18/1. 7–26.
Šekli, Matej. 2016. Gramatikalizacija glagolskih predpon: krajevni pomen, vrsta glagolskega dejanja, dovršnost. Toporišičeva Obdobja. Obdobja 35. Ur. Erika Kržišnik in Miran Hladnik. Ljubljana: Znanstvena založba Filozofske fakultete. 189–197.
Šivic-Dular, Alenka. 2011. Sekundarni glagoli na -n-ěti v slovenščini – prehajanje med glagolskimi vrstami. Izzivi sodobnega slovenskega slovaropisja. Zbirka Zora. Uredil. Marko Jesenšek. Maribor. 441–487.
Šivic-Dular, Alenka. 2013. К типологии внутриязыковых факторов развития: на примере словянских языков. Slovensko in slovansko. Jezikoslovni zapiski 19/1. 29–50.
Шведова idr. 1980 (2005). Русская грамматика I. Москва: Институт русского языка им. В. В. Виноградова.
Tichy, Eva. 32009 (12000). Indogermanistische Grundwissen. Bremen: Hempen Verlag.
Toporišič, Jože. 42000 (11976). Slovenska slovnica. Maribor: Obzorja.
Vendler, Zeno. 1957. Verbs and times. The Phsilosophical Review 66/2. 143–160.
Vidovič Muha, Ada. 1993. Glagolske sestavljenke – njihova skladenjska podstava in vezljivostne lastnosti. Slavistična revija 41/1. 161–192.
Vondrák, Wenzel. 21928 (1908). Vergleichende slavische Grammatik II: Formenlehre und Syntax. Göttingen: Vandenhoeck & Ruprecht.
Зализняк, Анна Андреевна, Микаэлян, Ирина Львовна, Шмелев, Алексей Дмитриевич. 2015. Русская аспектология: В защиту видовой пары. Москва: Языки словянской культуры.
Wiemer, Björn, Seržant, Ilja: Diachrony and typology of Slavic aspect: What does mophology tell us? V tisku.
Žele, Andreja. 2012. Predponsk/oobraziln/e vrednosti in predponskoobrazilno-predložna razmerja pri glagolih (v slovenščini). Pomensko-skladenjske lastnosti slovenskega glagola. Ljubljana: Založba ZRC. 61–82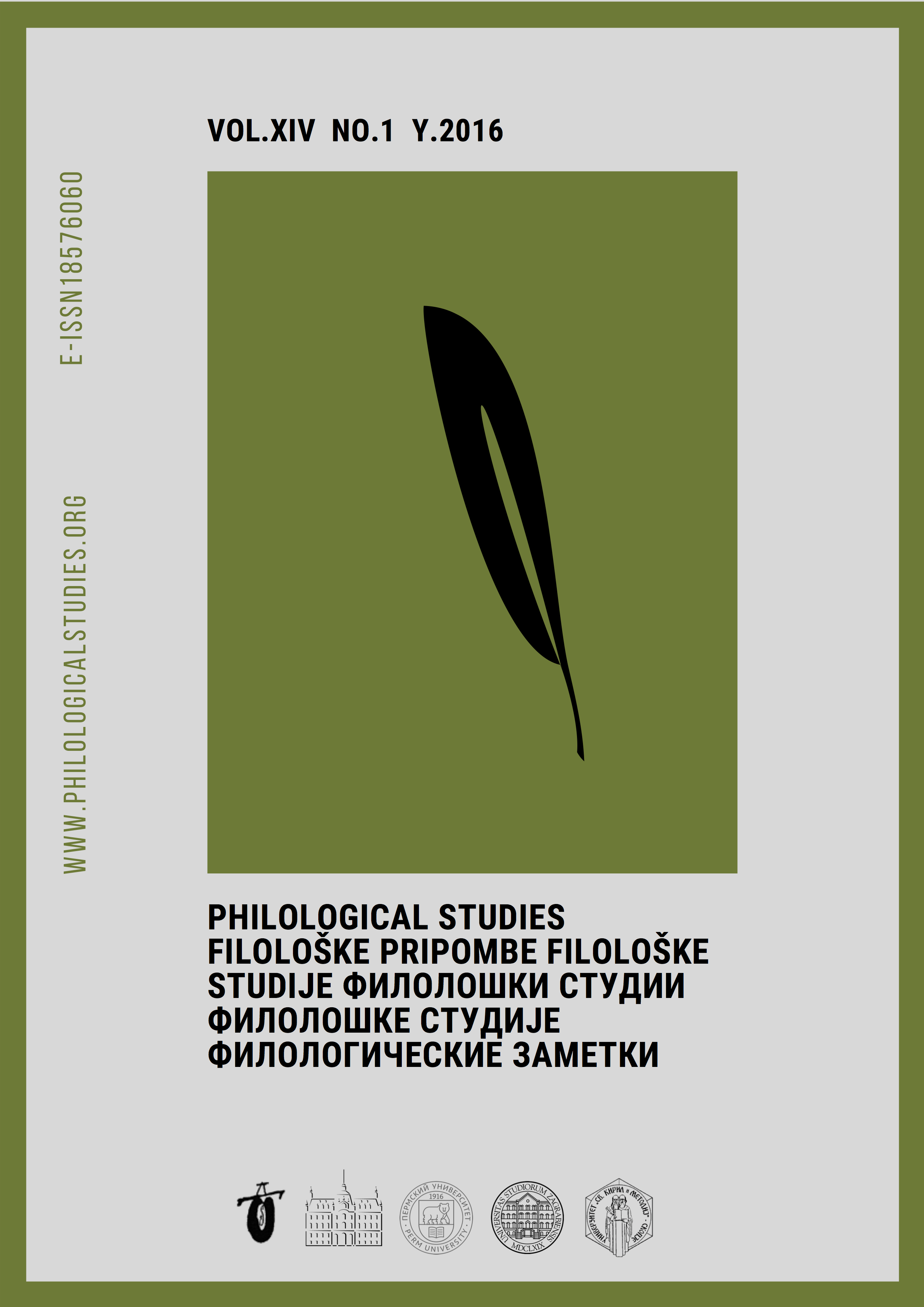 Section
Lingustics. Linguodidactics