GENDER OF ACRONYMS IN CONTEMPORARY SLOVENIAN
Mitja Trojar

Fran Ramov Institute of the Slovenian Language Research Centre of the Slovenian Academy of Sciences and Arts Ljubljana, Slovenia
Keywords:
acronyms, grammar, morphological description, corpus analysis, Slovenian
Abstract
The paper presents results of a corpus analysis of 40 most frequent acronyms in contemporary Slovenian that was performed using the Gigafida 2.0 corpus. The aim of the analysis was to study the gender and morphological behaviour of most frequent Slovenian acronyms. Results of the study are compared with the data from the Slovenian Normative Guide (2001).
Downloads
Download data is not yet available.
References
Bajec, Anton, Kolarič, Rudolf, Rupel, Mirko, Šolar, Jakob. (1964). Slovenska slovnica [Slovenian grammar]. Druga popravljena izdaja. Ljubljana: DZS. (In Slovenian.)
Bartoszewska, Janina, Patocka, Urszula. (2004). Tendencje przekładu abrewiatur i akronimów Unii Europejskiej (na materiale j zyka polskiego, rosyjskiego i angielskiego) [Trends in the translation of European Union abrewiatures and acronyms (on Polish, Russian and English material)]. In Słowa, słowa, słowa... w komunikacji j zykowej [In Words, words, words ... in linguistic communication]. Marcelina Grabska (Ed.). Gdańsk: Fundacja Rozwoju Uniwersytetu Gdańskiego. 137–145. (In Polish.)
Curk, Mateja. (2015). Pravopisna neustaljenost zloženk in kratic v sodobnem literarnem diskurzu [The orthographic unstability of leaflets and abbreviations in contemporary literary discourse]. In Pravopisna razpotja: razprave o pravopisnih vpra anjih [Spelling crossings: discussions on spelling issues]. Helena Dobrovoljc, Tina Lengar Verovnik (Eds.). Ljubljana: Založba ZRC, ZRC SAZU. 169–187. (In Slovenian.)
Dobrovoljc, Helena, Jakop, Nataša. (2012). Sodobni pravopisni priročnik med normo in predpisom [A modern spelling manual between norm and regulation]. Ljubljana: Založba ZRC.
Gigafida 2.0 [Gigafida 2.0]. Slovenski referenčni korpus (deduplicirani) v orodju NoSketch Engine [Slovenian Reference Corps (deduplicated) in NoSketch Engine]. URL: https://www.clarin.si/noske/run.cgi/corp_info?corpname=gfida20_dedup&struct _attr_stats=1&subcorpora=1 (accessed April 24, 2019). (In Slovenian.)
Kochová, Pavla. (2005). Nové iniciálové zkratky [New initial abbreviations]. In Neologizmy v dne ní če tině [Neologisms in Czech today]. Olga Martincová (Ed.). Praga: ÚJČ AV ČR. 242–248. (In Czech.)
Kompara, Mojca. (2009). Prepoznavanje kraj av v besedilih [Identifying abbreviations in texts]. In Jezikoslovni zapiski [Linguistic notes], 15, No 1–2. 95–112. (In Slovenian.)
Kompara, Mojca. (2010). Kraj avni slovarji [Short dictionaries]. In Jezikoslovni zapiski [Linguistic notes], 16, No 2. 111–129. (In Slovenian.)
Kompara, Mojca. (2015). Raba veznikov in predlogov pri tvorbi kratic [Use of binders and suggestions in acronyms]. In Jezikoslovni zapiski [Linguistic notes], 21, No 1. 51–62. (In Slovenian.)
Kompara, Mojca. (2017). Zasnova novega slovarja kraj av [Design a new glossary of abbreviations]. In Jezikoslovni zapiski [Linguistic notes], 23, No 1. 77–92. (In Slovenian.)
Korošec, Tomo. (1993). O kraj avah [About shortcuts]. In Seminar slovenskega jezika, literature in kulture [Seminar of Slovenian language, literature and culture] 29. Miran Hladnik (Ed.). Ljubljana: Filozofska fakulteta. 15–27. (In Slovenian.)
Lengar Verovnik, Tina. (2018). Obravnava kratic v prenovljenih pravopisnih pravilih: novosti in spremembe [Addressing abbreviations in the revised spelling rules: new developments and changes]. In Jezikoslovni zapiski [Linguistic notes], 24, No 2. 43–54. (In Slovenian.)
Logar, Nataša. (2003). Kratice in tvorjenke iz njih – aktualna poimenovalna možnost [Abbreviations and their derivatives – a current name option]. In Współczesna polska i słoweńska sytuacja j zykowa = Sodobni jezikovni položaj na Poljskem in v Sloveniji [Contemporary Polish and Slovenian language situation = Contemporary linguistic status in Poland and Slovenia]. Stanisław Gajda, Ada Vidovič Muha (Eds.). Opole: Instytut Filologii Polskej; Ljubljana: Filozofska fakulteta. 131–149.
Načrt pravil za novi slovenski pravopis [Project rules for the new Slovenian spelling]. (1981). Ljubljana: DZS.
Rode, Matej. (1974). Poskus klasifikacije kraj av [Attempt to classify abbreviations]. In Slavistična revija [Slavistic magazine], 22, No 2. 213–219. (In Slovenian.)
Ruszkowski, Marek. (2014). Formy oboczne skrótowców [Collateral abbreviations]. In Poradnik J zykowy [Language Guide], 9. 29–34. (In Polish.)
SP 1950 = Slovenski pravopis [Slovenian spelling]. (1950). Ljubljana: Državna založba Slovenije. (In Slovenian.)
SP 1962 = Slovenski pravopis [Slovenian spelling]. (1962). Ljubljana: Državna založba Slovenije. (In Slovenian.)
SP 2001 = Slovenski pravopis [Slovenian spelling]. (2001). Ljubljana: SAZU – Založba ZRC, ZRC SAZU. (In Slovenian.)
Šubarić, Sanja. (2017). Status skraćenica – u istorijskoj i savremenoj perspektivi [The status of abbreviations – in historical and contemporary perspective]. In Slavistična revija [Slavistic magazine], 65, No 2. 263–280.
Štumberger, Saška. (2015). Sklanjanje kratic v pisnem knjižnem jeziku [Acronyms in written literary language]. In Pravopisna razpotja: razprave o pravopisnih vpra anjih [Spelling crossroads: discussions of spelling issues]. Helena Dobrovoljc, Tina Lengar Verovnik (Eds.). Ljubljana: Založba ZRC, ZRC SAZU. 159–167. (In Slovenian.)
Štumberger, Saška. (2016). Kratice v Načrtu pravil za novi slovenski pravopis 1981 in v Slovenskem pravopisu 2001 [Abbreviations in the Draft Rules for the New Slovenian Orthography 1981 and in the Slovenian Orthography 2001]. In Topori ičeva obdobja. Erika Kržišnik, Miran Hladnik (Eds.). Ljubljana: Znanstvena založba Filozofske fakultete (Obdobja 35). 439–446. (In Slovenian.)
Toporišič, Jože. (2004). Slovenska slovnica [Slovenian grammar]. Maribor: Založba Obzorja. (In Slovenian.)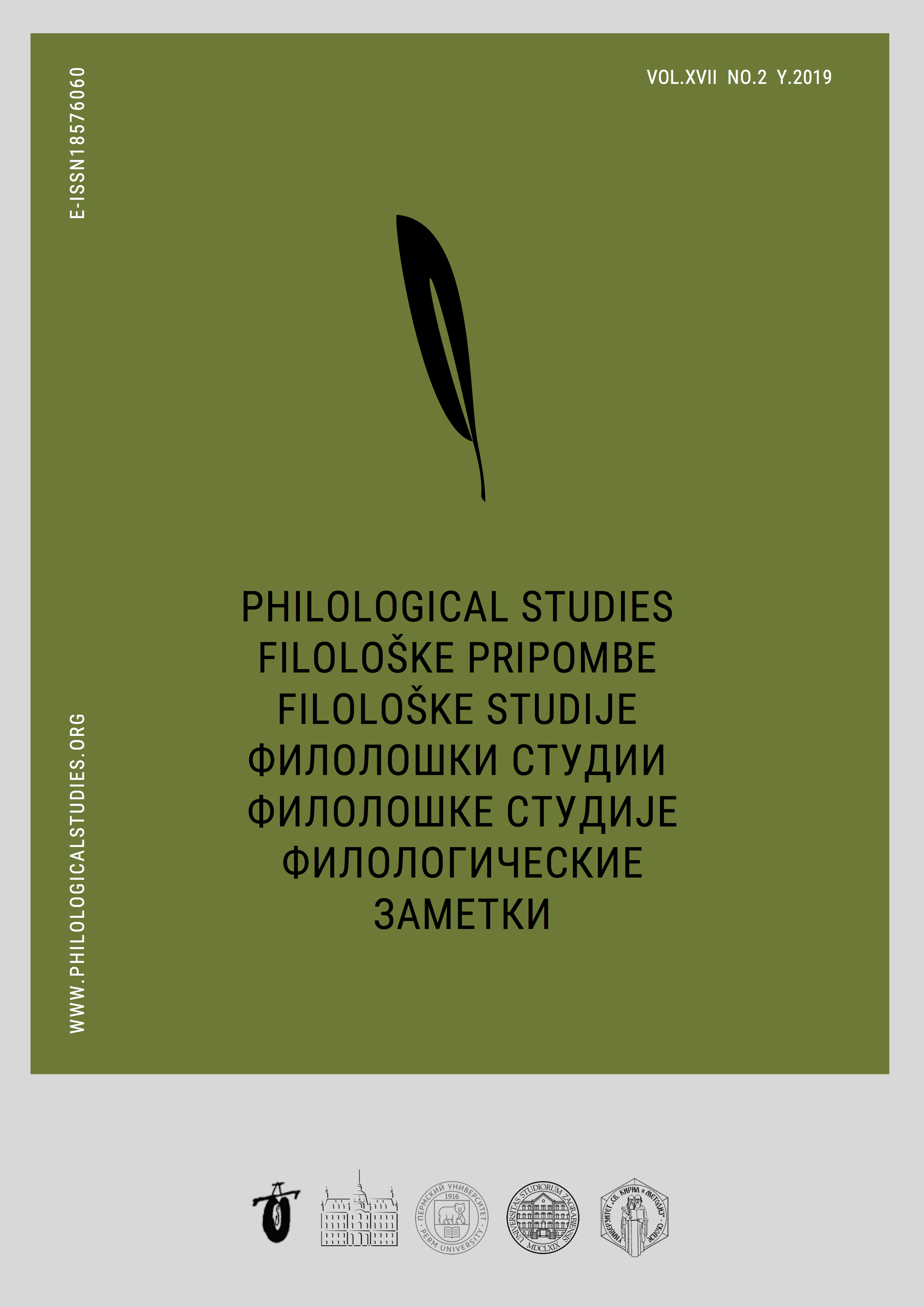 Section
Lingustics. Linguodidactics