THE SOCIOLECT AS A MEANS OF INTERCULTURAL COMMUNICATION
Elena V. Kharchenko

Chelyabinsk, Russia
Keywords:
intercultural communication, sociolect, language consciousness, the image of the world
Abstract
The article deals with sociolect as a means of intercultural communication on the example sites from the Internet to show the presence of associations, which are to communicate using the language options. Identified ways of overcoming the barrier of misunderstanding in intercultural communication, which includes contacts between speakers of different national cultures, but gender, age, corporate.
Downloads
Download data is not yet available.
References
Ерофеева, Тамара Ивановна. 2010. Социолект как инструмент описания языковой ситуации региона. В : Вестник Пермского университета. Вып. 1(7). 21-25.
ИМХО – ИМХО фсё оки: как Интернет меняет нашу речь. https://piter-trening.ru/kak-internet-menyaet-nashu-rech/ (дата доступа 15.06.2017).
Климов, Евгений Александрович. 1995. Образ мира в разнотипных профессиях. Москва: Издательство МГУ.
Леонтьев, Алексей Алексеевич. 1997. Основы психолингвистики. Москва: НПФ «Смысл».
Петренко, Виктор Федорович. 1997. Основы психосемантики. Москва: Изд-во МГУ.
Словарь компьютерного сленга. http://www.kostroma.net/~kivok/slov.htm (дата доступа 23.05.2017).
Сосницкая, Олеся. «Мамский» язык: от пузожителей до кесарят. http://medportal.ru/budzdorova/food/mamskiy-yazyk-ot-puzozhiteley-do-kesaryat/ (дата доступа 27.08.2017).
Тарасов, Евгений Федорович. 2000. Актуальные проблемы анализа языкового сознания. В: Языковое сознание и образ мира / отв. ред. Н.В. Уфимцева. Москва: Институт языкознания РАН. 24-32.
Тарасов, Евгений Федорович. 1998. К построению теории межкультурного общения. В: Языковое сознание: формирование и функционирование / отв. ред. Н.В. Уфимцева. Москва: Институт языкознания РАН. 30-34.
Шибутани, Тамотсу. 1969. Социальная психология. Москва: Прогресс.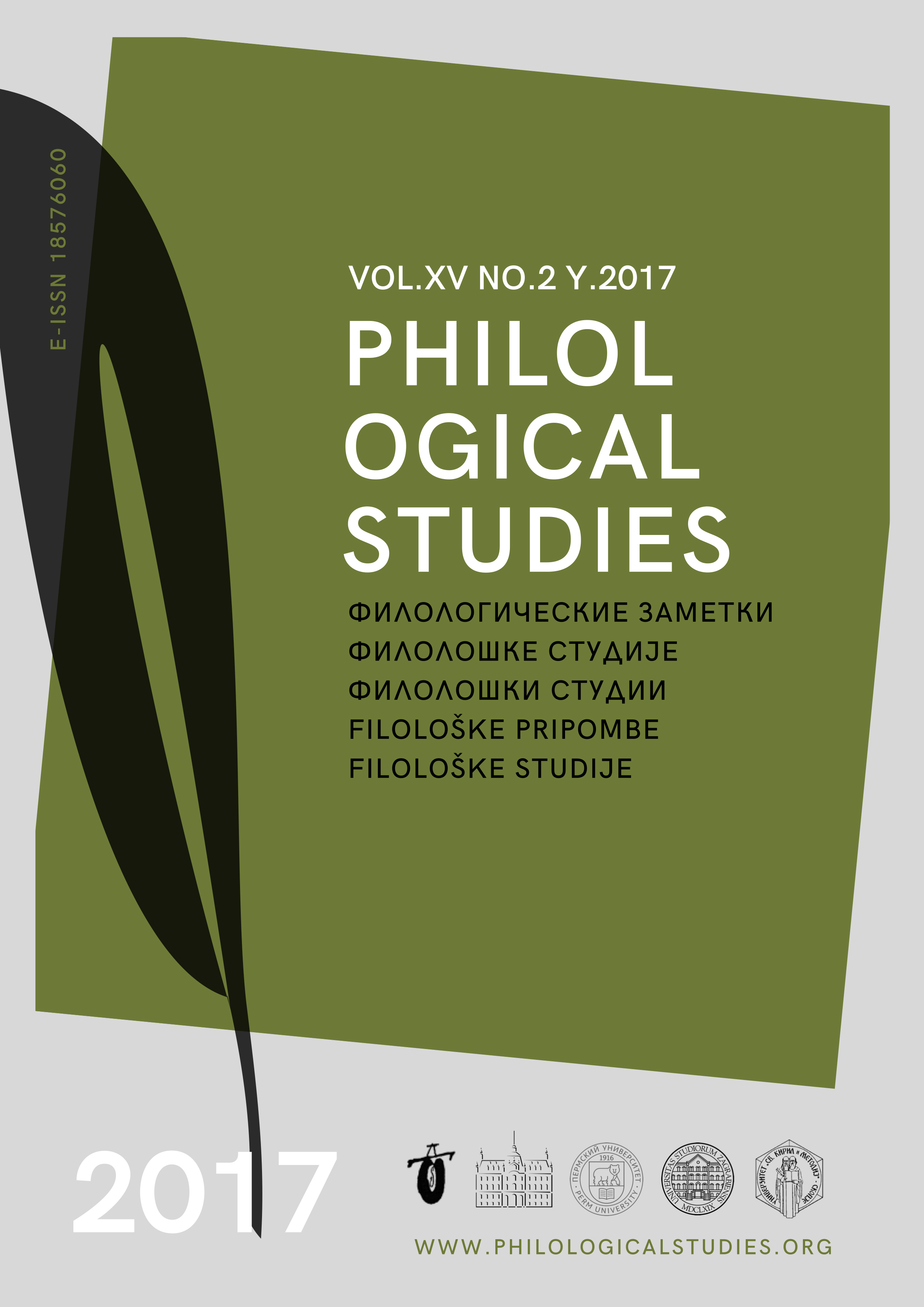 How to Cite
Kharchenko, E. V. (2019). THE SOCIOLECT AS A MEANS OF INTERCULTURAL COMMUNICATION. Philological Studies, 15(2), 124-135. Retrieved from https://journals.ukim.mk/index.php/philologicalstudies/article/view/264
Section
Contemporary Society In Culture, Language, And Literature