IDIOMATICS OF THE AVANT-GARDE: ELABORATING THE IDIOM ID CARD IN THE AVANT-GARDE DISCOURSE
Irina V. Zykova

Institute of Linguistics, Russian Acsdemy of Science, Moscow, Russia
Keywords:
method of idiom identification, idiomatics, avant-garde discourse, language experiment, cubo-futurism, manifesto, ID of the avant-garde idiom
Abstract
The paper sets out to explore the problem of the idiom identification in the avant-garde discourse. In particular, the research is aimed at studying the frame of "idiom" in the cubo-futurists' manifestoes of the 1910th – the beginning of the 1920s that are devoted to the issues of linguistic creativity in the literary or artistic activity. As a result, the main categorial characteristics of the avant-garde idioms proper have been established; such key notions of the present study as "idiomatics of the avant- garde" and "the avant-garde idiom ID card" have been elaborated.
Downloads
Download data is not yet available.
References
Belyaevskaya, E.G. (2014). Metody analiza leksicheskoy semantiki v kognitivnoy lingvistike [Methods of analysis of lexical semantics in cognitive linguistics]. In Vestnik Moskovskogo gosudarstvennogo lingvisticheskogo universiteta [Bulletin of Moscow State Linguistic University] No 20 (706). 9-21. (In Russian.)
Demyankov, V.Z. (1996). Freym [Frame]. In Kubryakova, E. S. (Ed.). Kratkiy slovar' kognitivnykh terminov [Brief Dictionary of Cognitive Terms]. Moscow: Izdatel'stvo Moskovskogo gosudarstvennogo universiteta. 187-189. (In Russian.)
Entsiklopediya russkogo avangarda [Encyclopedia of the Russian avant-garde]. URL: http://rusavangard.ru/online/ (accessed April 10, 2018). (In Russian.)
Fillmore, C. (1983). Osnovnye problemy leksicheskoy semantiki [The main problems of lexical semantics]. In Novoe v zarubezhnoy lingvistike. Vyp. XII: Prikladnaya lingvistika [New in foreign linguistics. Vol. XII: Applied Linguistics]. Moscow: Raduga. 74-122. (In Russian.)
Minsky, M. (1979). Freymy dlya predstavleniya znaniy [Frames for representing knowledge]. Moscow: Energiya. (In Russian.)
Sokolova, O.V. (2018). Idiomatika avangarda: istoriya voprosa i sovremennyy podkhod [Idioms of the avant-garde: background and modern approach]. In Kognitivnye issledovaniya yazyka. Vyp. XXXV: Vzglyad v budushchee: novye perspektivy kognitivnykh issledovaniy yazyka [Cognitive linguistic studies. Vol. XXXV: A Look into the future: New perspectives on cognitive language studies]. 263-271. (In Russian.)
Zykova, I.V., Sokolova, O.V. (2019). Yazykovoy eksperiment kak ustanovka na idiomatizatsiyu v manifestakh kubofuturistov: Idiomatika avangarda. [Linguistic experiment as attitude for idiomatization in the manifestos of cubo-futurists: Idioms of the avant-garde]. In Voprosy kognitivnoy lingvistiki [Questions of cognitive linguistics]. (In print.)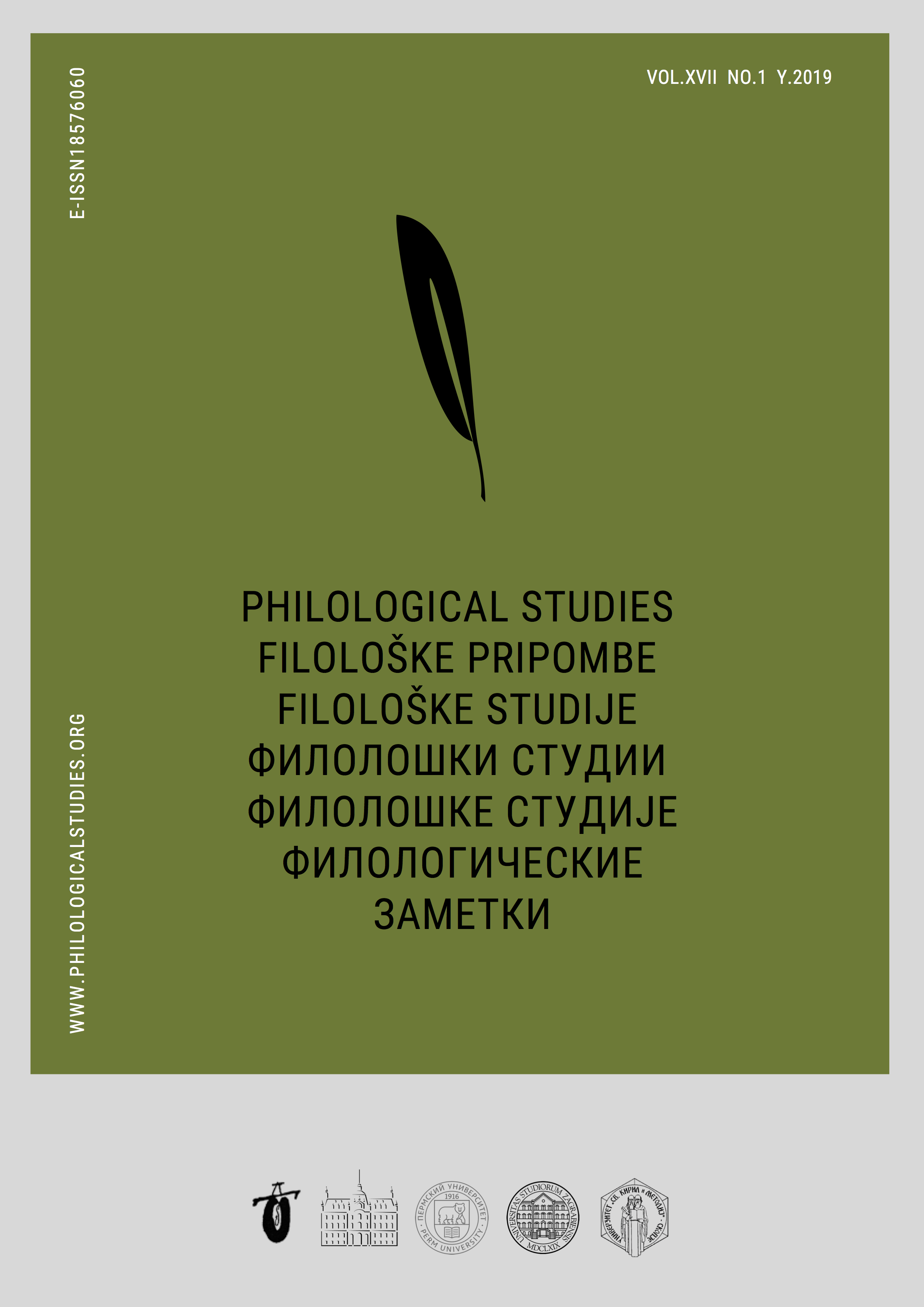 Section
The 'word' in Historical-Cultural Contexts