KONTINUITETA MOTIVA ZMAJA V MAKEDONSKI KNJIŽEVNOSTI 21. STOLETJA NA PRIMERU ROMANA VLADA UROŠEVIĆA ZMAJEVA NEVESTA
Una Softić

University of Ljubljana, Ljubljana, Slovenia
Keywords:
Macedonian prose, Macedonian folk literature, dragon, mythology
Abstract
This article explores the influence of Slavic folk beliefs in dragons on Macedonian literature, from Marko Cepenkov and the Miladinov Brothers to The Dragon's Bride, a contemporary novel by Vlada Urošević. We examine the parallels between the old and new, tradition and innovation, attitude and interdependence.
Downloads
Download data is not yet available.
References
Аго, Актан. 2006: Турските јазични елементи во јазикот на Марко Цепенков.
Скопје: Логос.
Цепенков, Марко. 1998: Фолклорно наследство. София: Академично
издателство "Проф. Марин Дринов".
Цепенков, Марко. 1958−1959: Македонски народни приказни.. Скопје : Кочо
Рацин.
Цепенков, Марко. 1980: Народни веруванја: Детски игри. Скопје: Македонска
книга.
Цепенков, Марко. 1972: Пословици, поговорки, гатанки, клетви и благослови..
Скопје: Македонска книга.
Цепенков, Марко. 1972: Преданиа. Скопје: Македонска книга: Институт за
фолклор.
Конески, Блаже, 1980: Речник на македонскиот јазик. Скопје: Македонска
книга.
Lévy-Bruhl, Lucien. 1935: La mythologie primitive. Paris: Alcan.
Миладиновци. 1962: Зборник 1861 – 1861. Скопје: Кочо рацин.
Snoj, Marko. 2003: Slovenski etimološki slovar. Ljubljana: Modrijan.
Softić, Una. 2012: Etimološka analiza besede »zmaj« v južnoslovanskih jezikih in
mit zmaja v makedonski književnosti 21. stoletja. Ljubljana: U. Softić.
Steingass, Francis Joseph. 1992: A comprehensive Persian-English dictionary. New
Delhi: Asian Educational Services.
Subiotto, Namita. 2009: Obsedeni z arheologijo. V publikaciji Vlada Urošević:
Divja Liga. Ljubljana: Društvo slovenskih pisateljev.
Škaljić, Abdulah. 1985: Turcizmi u srpskohrvatskom jeziku. Sarajevo: Svjetlost.
Урошевиќ, Влада. 2008: Невестата на змејот. Скопје: Магор.
Вражиновски, Танас. 1995. Народна демонологија на Македонците. Скопје:
Матица македонска.
Вражиновски, Танас. 2002: Речник на народната митологија на Македонците.
Скопје: Матица македонска.
Witzel, Michael. 2008: Slaying the Dragon across Eurasia. In hot pursuit of
language in prehistory. Amsterdam: John Benjamins Publishing Company.
http://aesopfables.com/cgi/aesop1.cgi?sel&TheLionandtheMouse2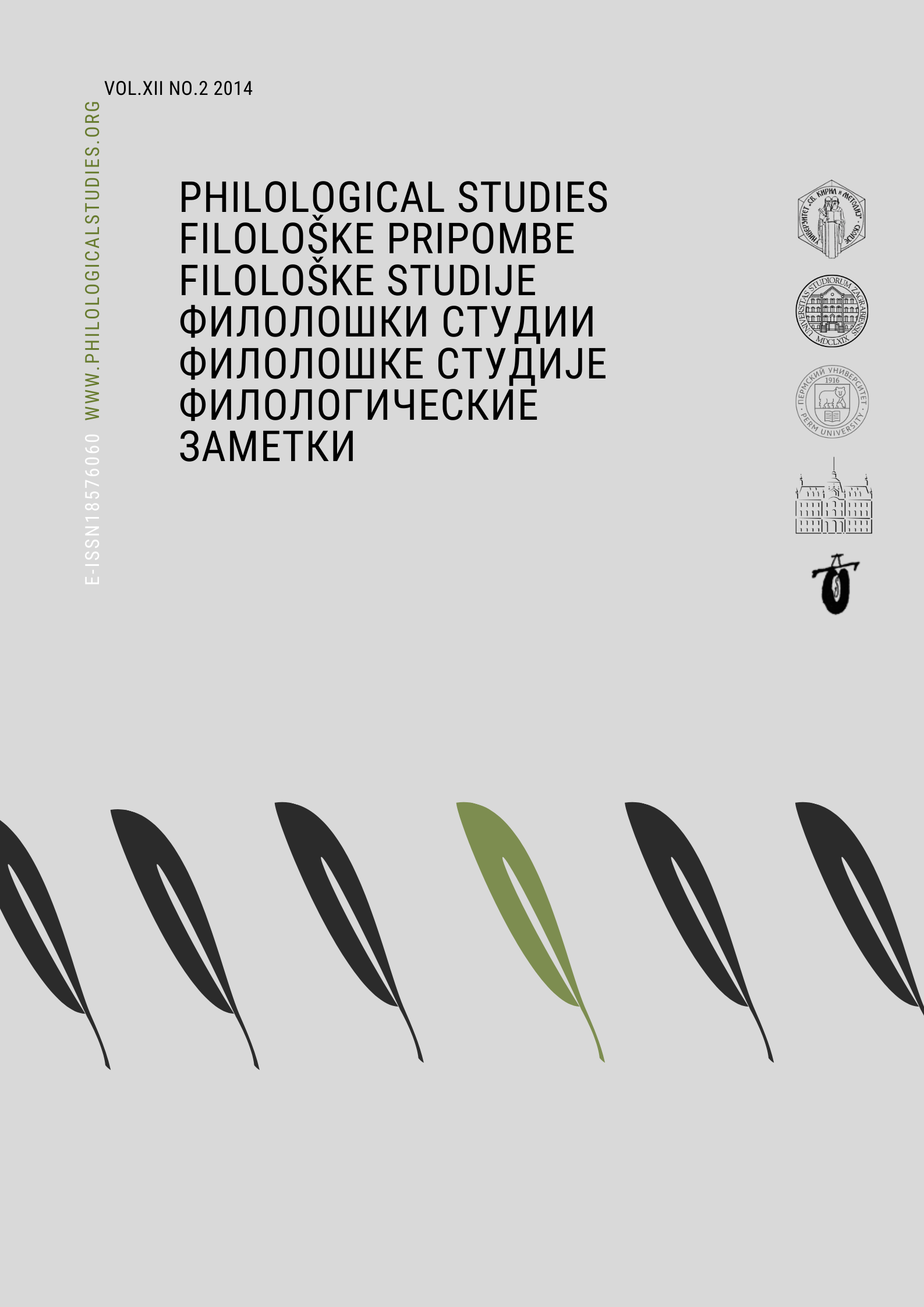 Section
Contemporary Society In Culture, Language, And Literature