IDIOMS WITH COMPONENT FACE IN THE TRANSLATIONS FROM CZECH INTO MACEDONIAN
Јasmina Delova-Siljanova

Blazhe Koneski Faculty of Philology Sts. Cyril and Methodius University in Skopje Skopje, Macedonia
Keywords:
Macedonian idioms, Czech idioms, face
Abstract
In our presentation we will stress the semantics of somatic idioms with component 'face' both in Macedonian and Czech language, as well as the classification of possibilities for their translation from one language into another. We will analyze the problems arising during translation of idioms which can have pragmatic, language nature, culture-specific problems or problems arising from the specifics of the phrases themselves.
Downloads
Download data is not yet available.
References
Delova-Siljanova, J. (2012). Somatskite frazemi vo prevodite od češki na makedonski jazik i obratno [Somatic phrases translated from Czech into Macedonian and vice versa]: Doktorska disertacija. Skopje: Filološki fakultet ,,Blaže Koneski".
Milovanoviḱ, Krsto. (1994). Rečnik simbola [Dictionary of Symbols]. Kragujevac: Narodno delo.
Risteski, Ljupčo. (2003). Kulturna topografija na čovečkoto telo [Cultural topography on the human body]. In EtnoAntropoZum. Skopje: Institut za geografija, Závod za Etnologija.
Veljanovska, Katerina. (1998). Frazeološkite izrazi vo makedonskiot jazik (so poseben osvrt na somatskata frazeologija) [Phraseological expressions in the Macedonian language (with special reference to Somatic phraseology)]: Doktorska disertacija. Skopje: Filološki fakultet ,,Blaže Koneski".
Vražinovski, Tanas. (2000). Rečnik na narodnata mitologija na Makedoncite [Dictionary of the mythology of the Macedonians]. Skopje: Institut za staroslovenska kultura – Matica makedonska.
Vaňková, Irena. (2007). Nádoba plná řeči: (Člověk, řeč a přirozený svět) [Vessel full of speech: (Man, speech and the natural world)]. Praha: Nakladatelství Karolinum.
Vaňková, Irena. (2003). O těle, smyslech, citech a prožitcích [About the body, senses, feelings and experiences]. In Čeština doma a ve světě [Czech at home and in the world], 11, No 1/2. 7–9.
Mrhačová, Eva. (2000). Názvy částí lidského těla v české frazeologii a idiomatice: Tematický frazeologický slovník II [Names of human body parts in Czech phraseology and idiomatics: thematic phraseology II]. Ostrava: Ostravská univerzita Ostrava – Filozofická fakulta.
Lakoff, George; Johnson, Mark. (2002). Metafory, kterými žijeme [Metaphors we live with]. Brno: Host.
Čermák, František. (2007). Frazeologie a idiomatika česká a obecná [Czech and general phraseology and idiomatics]. Praha: Nakladatelství Karolinum.
Речници
Čermák, František, Hronek, Jiří et al. (Eds.) (1983). Slovník české frazeologie a idiomatiky. Přirovnání [Dictionary of Czech phraseology and idiomatics. Comparison]. Praha: Academia. (SČFI).
Čermák, František, Hronek, Jiří et al. (1988). Slovník české frazeologie a idiomatiky. Výrazy neslovesné [Dictionary of Czech phraseology and idiomatics. Nonverbal expressions]. Praha: Academia. (SČFI)
Čermák, František, Hronek, Jiří et al. (1994)a. Slovník české frazeologie a idiomatiky [Dictionary of Czech phraseology and idiomatics]. Výrazy slovesné A-P. Praha: Academia. (SČFI)
Čermák, František, Hronek, Jiří et al. (1994)b. Slovník české frazeologie a idiomatiky [[Dictionary of Czech phraseology and idiomatics]. Výrazy slovesné R-Ž. Praha: Academia. (SČFI)
Dimitrovski, Todor, Širilov, Taško. (2003). Frazeološki rečnik na makedonskiot jazik [Dictionary of Macedonian phraseology]. Tom 1: A-J. Skopje: Ogledalo. (ФРМЈ)
Širilov, Taško. (2008). Frazeološki rečnik na makedonskiot jazik [Dictionary of Macedonian phraseology]. Tom 2: K-P. Skopje: Ogledalo. (ФРМЈ)
Širilov, Taško. (2009). Frazeološki rečnik na makedonskiot jazik [[Dictionary of Macedonian phraseology]. Tom 3: R-Š. Skopje: Ogledalo. (ФРМЈ)
Velkovska, Snežana. (2008). Makedonska frazeologija so mal frazeološki rečnik [Macedonian phraseology with small phraseological dictionary]. Skopje.
Zaorálek, J. (2000). Lidová rčení [Folklore sayings]. Vol. 4. Praha: Academia. (LR)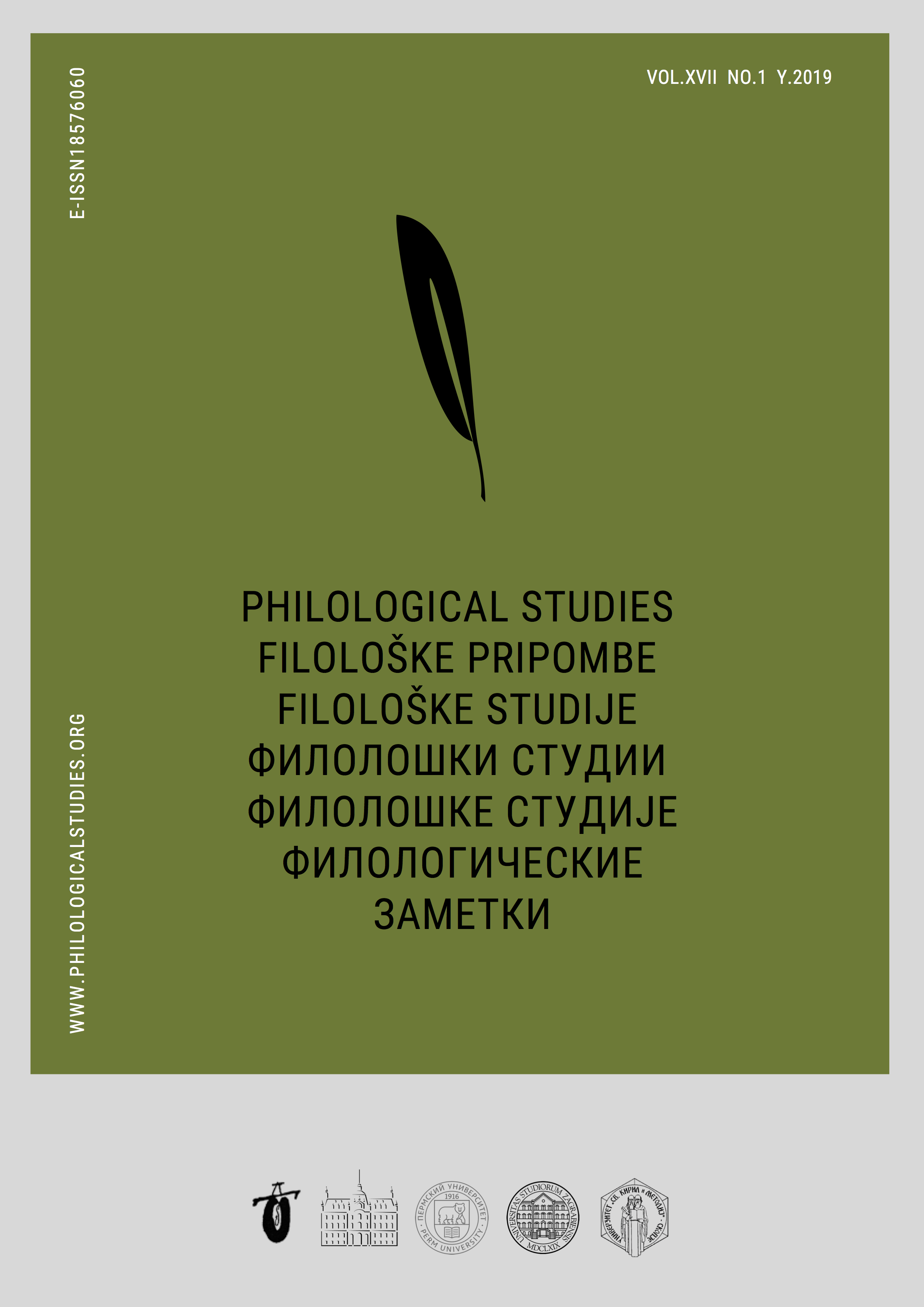 Section
The 'word' in Historical-Cultural Contexts