SELF-CENSORSHIP OF THE TRANSLATOR OF CHILDREN'S LITERATURE (ON THE EXAMPLE OF "THE HERBS OF THE LITTLE WITCH" BY POLONCA KOVAČ)
Mariya M. Gromova

Lomonosov Moscow State University
Abstract
In 2017–2020 twenty-two books by Slovenian authors for children, both fiction and educational, were published in separate editions in Russian. This is an unprecedented amount, considering that in the previous twenty-five years, Slovenian books for children were not published in Russia at all. The fairy tale by Polonсa Kovač "The Herbs of the Little Witch" translated by Olga Smorodina, a graduate of St. Petersburg State University, published by Peter Publishing House in 2019 with age marking 6+ is very noticeable among them. The translation of the book is characterized by the consistent elimination of "unchildish topics" from the text (death, bladder and bowel habits, anti-social acts, family problems, politics and international relations). In this work, an attempt is made to trace and systematize the changes made to the text, as well as to determine what caused the elimination of specific topics in the context of modern strategies for translating children's books into Russian. Some of the omissions and replacements considered are determined by the Federal Law of the Russian Federation no. 436-FZ "On Protecting Children from Information Harmful to Their Health and Development" and are necessary for the book to be published with a 6+ marking and be available to children of preschool and primary school age; partially these changes are caused by the translator's personal ideas about taboo topics in children's literature.
Downloads
Download data is not yet available.
References
Асонова, Е.А. (2020). Табу или не табу – вот в чем вопрос! В: Детские чтения № 17 (1) [Asonova, E.A. (2020): Taboo or not taboo, that is the question! In: Children's Readings № 17 (1)]. 320-333. (In Russian.)
Ковач, Полонца (2019). Волшебная книга полезных трав. Санкт-Петербург: Питер [Kovac, Polonca. (2019). The Magic Book of Medicinal Herbs. Sankt-Peterburg: Piter]. (In Russian.)
Сухова, М.В. (2020). «Похороны мыши»: освоение феномена смерти в современной детской культуре. В: Добровольская, В.Е. (Ред.). Славянская традиционная культура и современный мир. Т. 18: Детская культура и фольклор в социокультурном пространстве России. Москва, Ульяновск: ГРДНТ имени В. Д. Поленова, Центр народной культуры Ульяновской области [Sukhova, M.V. (2020). "Funeral of a mouse": mastering the phenomenon of death in modern children's culture. In: Dobrovol'skaya, V.E. (Ed.). Slavic traditional culture and the modern world. Vol. 18: Children's culture and folklore in the socio-cultural space of Russia. Moscow, Ulyanovsk: GRDNT imeni V.D. Polenova, Tsentr narodnoi kul'tury Ul'ianovskoi oblasti]. 138-151. (In Russian.)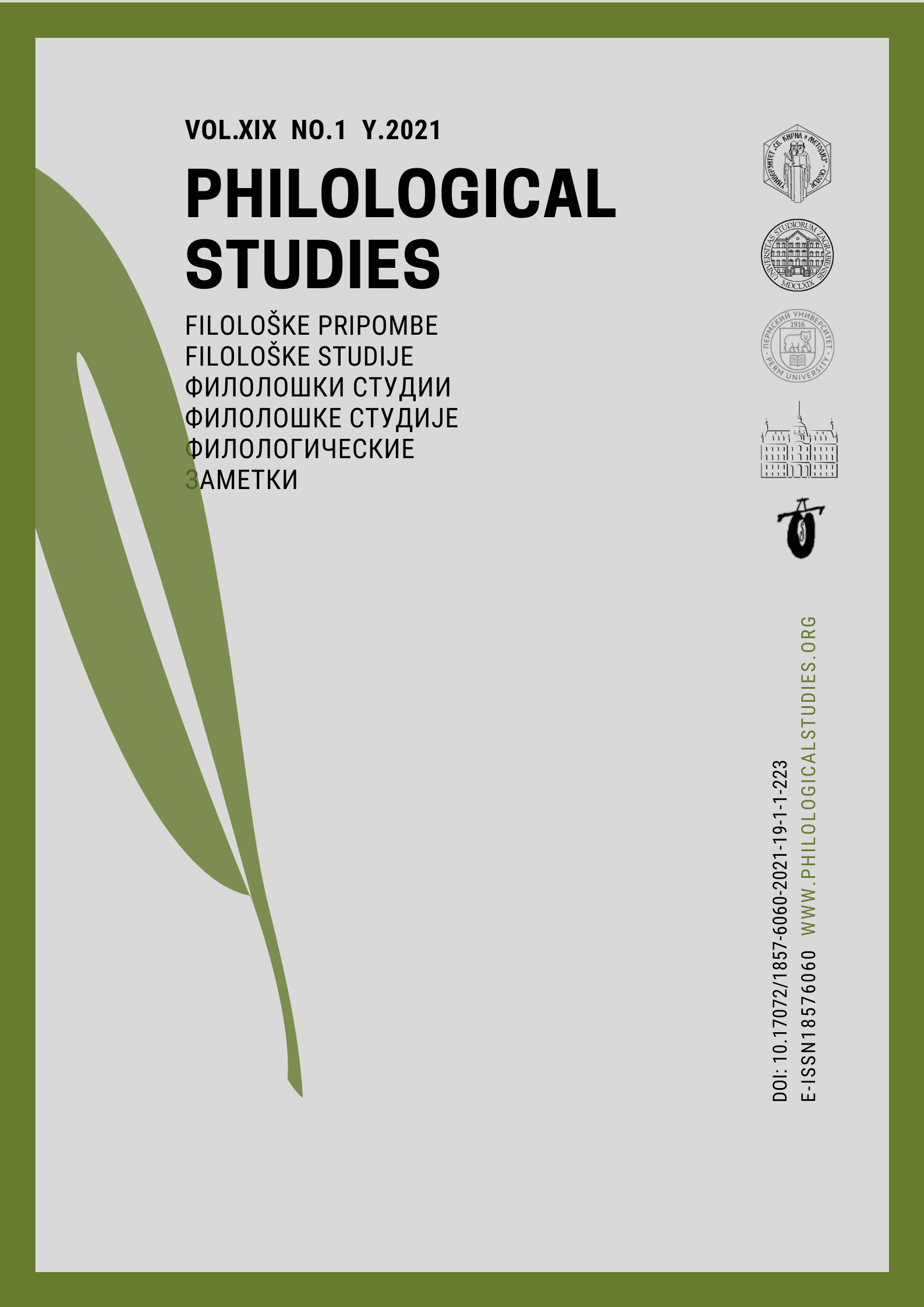 How to Cite
Mariya M. Gromova. (2021). SELF-CENSORSHIP OF THE TRANSLATOR OF CHILDREN'S LITERATURE (ON THE EXAMPLE OF "THE HERBS OF THE LITTLE WITCH" BY POLONCA KOVAČ). Philological Studies, 19(1), 164-180. Retrieved from https://journals.ukim.mk/index.php/philologicalstudies/article/view/1586
Section
Contemporary Society In Culture, Language, And Literature
Copyright (c) 2021 Mariya M. Gromova
This work is licensed under a Creative Commons Attribution-NonCommercial-NoDerivatives 4.0 International License.
Philological studies © 2019. This work is licensed under a Creative Commons Attribution-Noncommercial-No Derivative Works 3.0 Unported License