COMRADE-ESS GIRL: SUNČANA ŠKRINJARIĆ'S AUTOBIOGRAPHICAL TRILOGY AS COMING OF AGE IN BETWEEN THE FEMINIST WAVES
Natalija Stepanović

Central European Univeristy, Vienna, Austria
Abstract
This essay analyses the autobiographical trilogy authored by a Croatian writer mostly known for her children's stories, Sunčana Škrinjarić (1931-2004). The trilogy consists of the novels Ulica predaka [The Ancestor's Lane], Ispit zrelosti [The Matriculation Exam], and Bijele strijele [White Arrows], published between 1980 and 2004. I interpret them as feminist Bildungsroman, a genre present both in the West and in the East, tracking the heroine's venture from the private into public sphere, while downplaying the importance romance and marriage had in the classic, male-centric version of the form. Following a narrative analysis, I discuss Škrinjarić's portrayal of aesthetic norms and cultural production and outline possibilities of resistance through reading and writing. The third section of the essay engages with the history of Yugoslav feminism and situates Škrinjarić within a recently revised timeline of women's activism that emphasizes the continuity between the government-supported project of women's emancipation and second-wave feminism. By combining textual analysis with wider cultural context, I have found that Škrinjarić's still widely obscure trilogy offers valuable insights into the formation of female identities and possible plots in which we encounter said identities.
Downloads
Download data is not yet available.
References
Bonfiglioli, Chiara. (2021). Communisms, Generations, and Waves: The Cases of Italy, Yugoslavia, and Cuba. In: Artwińska, Anna, Mrozik, Agnieszka (Eds.). Gender, Generations, and Communism in Central and Eastern Europe and Beyond. New York & London: Routledge: 66-81.
Bonfiglioli, Chiara. (2014). Women's Political and Social Activism in the Early Cold War Era: The Case of Yugoslavia. Aspasia 8. 1-25.
de Certeau, Michel. (1984). The Practice of Everyday Life. Berkeley: University of California Press.
Duda, Igor. (2017). Uvod: od nazadnosti do svemira, od projekta do zbornika. In: Duda, Igor. (Ur.). Stvaranje socijalističkog čovjeka [Introduction: from Backwardness to Space, from Project to Volume. In: Duda, Igor. (Ed.). Making of the Socialist Man]. Zagreb & Pula: Srednja Europa. 5-22. (In Croatian.)
Dujić, Lidija, Bauer, Ludwig. (2010). Knjiga o Sunčani i Severu [Book about Sunčana and Sever]. Sisak: Aura. (In Croatian.)
Einhorn, Barbara. (1993). Cinderella Goes to Market. Citizenship, Gender, and Women's Movements in East Central Europe. London, Verso.
Evans, Mary. (2005). Auto/biography as a Research Method. In: Griffin, Gabriele. (Ed.). Research Methods for English Studies. Edinburgh: Edinburgh University Press. 31-46.
Felski, Rita. (1989). Beyond Feminist Aesthetics. Feminist Literature and Social Change. Cambridge: Hutchinson Radius.
Fetterley, Judith. (1978). The Resisting Reader. A Feminist Approach to American Fiction. Bloomington & London: Indiana University Press.
Harsch, Donna. (2014). Communism and Women. In: Smith, Stephen A. (Ed.). The Oxford Handbook of the History of Communism. Oxford: Oxford UP. 488-504.
Kolanović, Maša. (2011). Udarnik! Buntovnik? Potrošač… Popularna kultura i hrvatski roman od socijalizma do tranzicije [Striker! Rebel? Consumer... Popular culture and Croatian novel from socialism to transition]. Zagreb: Naklada Ljevak. (In Croatian.)
Lóránd, Zsófia. (2019). Sisterhood and Second Wave Feminist Stakes in Women's Art and Women's Literature in Yugoslavia in the 1970s and 1980s. In: Bühler-Dietrich, Annette. (Ed.). Feminist Circulations between East and West. Berlin: Frank & Timme. 109-128.
Lukšić, Irena. (2002). Sunčana Škrinjarić: Autobiography from Various Narrative Points of View. Croatian Studies Review, Vol. 2 № 1. 119-133.
Ross, Johanna. (2019). The East, the West, and the Female Bildungsroman: A Soviet Estonian Novel Half Remembered, Half Forgotten. In: Bühler-Dietrich, Annette. (Ed.). Feminist Circulations between East and West. Berlin: Frank & Timme. 129-149.
Senjković, Reana. (2011). Negotiating (Socialist) Grlhood(s): The Case of the Only Girls' Magazine in Socialist Yugoslavia. International Journal of Cultural Studies, Vol. 14 № 5. 483-497.
Sklevicky, Lydia. (1996). Konji, žene, ratovi [Horses, Women, Wars]. Zagreb: Ženska infoteka. (In Croatian.)
Škrinjarić, Sunčana. (2004). Kuća od riječi [House of Words]. Zagreb: Mozaik knjiga. (In Croatian.)
Zaharijević, Adriana. (2017). The Strange Case of Yugoslav Feminism: Feminism and Socialism in the East. In: Jelača, Dijana, Kolanović, Maša, Lugarić, Danijela. (Eds.). The Cultural Life of Capitalism in Yugoslavia. (Post)Socialism and Its Other. Cham: Palgrave Macmillan. 263-284.
Zlatar, Andrea. (2004). Tekst, tijelo, trauma: ogledi o suvremenoj ženskoj književnosti [Text, Body, Trauma: Essays on the Contemporary Women's Literature]. Zagreb: Naklada Ljevak. (In Croatian.)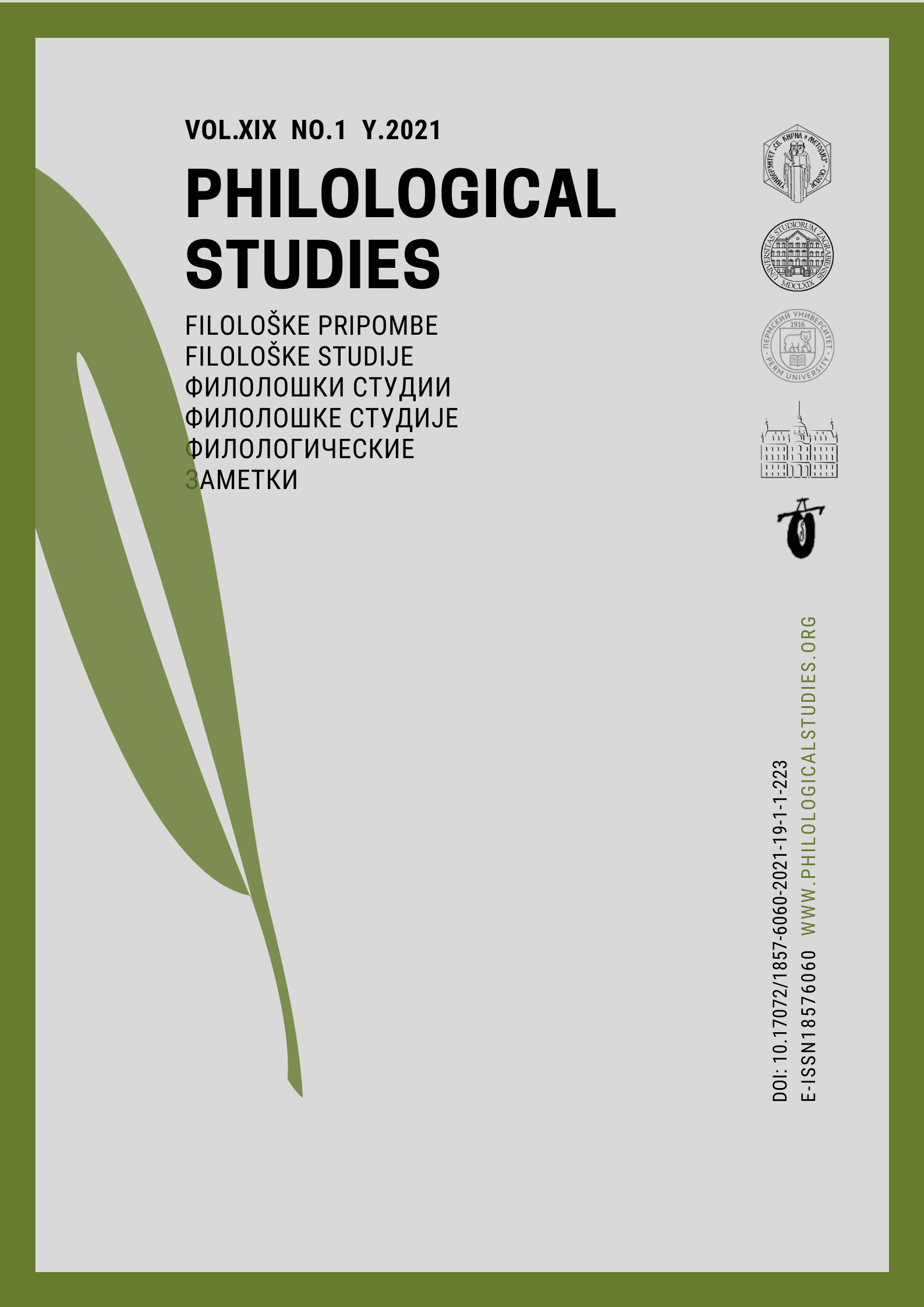 How to Cite
Natalija Stepanović. (2021). COMRADE-ESS GIRL: SUNČANA ŠKRINJARIĆ'S AUTOBIOGRAPHICAL TRILOGY AS COMING OF AGE IN BETWEEN THE FEMINIST WAVES . Philological Studies, 19(1), 114-127. Retrieved from https://journals.ukim.mk/index.php/philologicalstudies/article/view/1583
Section
Literature in Intercultural Context
Copyright (c) 2021 Natalija Stepanović
This work is licensed under a Creative Commons Attribution-NonCommercial-NoDerivatives 4.0 International License.
Philological studies © 2019. This work is licensed under a Creative Commons Attribution-Noncommercial-No Derivative Works 3.0 Unported License