NEW OBJECTIFICATION OF REALITY: THE BACKGROUND OF KUNDERA'S UNBEARABLE LIGHTNESS OF BEING
Keywords:
Milan Kundera, emigration, poetics of subversion, unbearable ease of existence, austerity, magical realism, verbal magic, merging the real and the magical, displaced time, space, identity
Abstract
This text sheds light on the meaning of the popular phrases "unbearable lightness of being" and "feeling of austerity" in Milan Kundera's novel "The Book of Laughter and Oblivion" and Philip Kaufman's film "Unbearable Lightness of Being", which is based on Kundera's novel of the same name. This explanation is rooted in his subversive magically realistic poetics, which are related to his emigrant life path and the inability to directly write about the burning topics of freedom, terror, morality, human relations, promiscuity, love.
Special emphasis is put on the poetics of magical realism, which is explained as the way in which Kundera expresses his artistic ideas. Specifically, many magically realistic elements are present in the above-mentioned works, such as: verbal magic; magical atmosphere; merging the real and the magical; displacement of time, space, identity. The representation of all these magically realistic elements is interpreted as a shield that covers a new objectification of the reality of East and West and of the postmodern world in general, which is characterized, as Kundera sarcastically states, by the phrase "unbearable lightness of being".
Downloads
Download data is not yet available.
References
Faris, Wendy. 2004. Ordinary Enchantments: Magical Realism and the Remystification of Narrative. Nashville: Vanderbilt University Press. p.7- 27.
Faris, Wendy. 1995. Scheherazade's Children: Magical Realism and Postmodern Fiction. in Magcical Realism:Theory, History, Community. (ed. Lois Parkinson Zamora and Wendy Faris). Duke University Press:Durham and London.
Fraňková, Rut. 2017. Kundera's 'Book of laughter and forgetting' finaly published in Czech Republic. Aveable at: https://english.radio.cz/kunderas-book-laughter-and-forgetting-finally- published-czech-republic-8177627 11.03.2017.
Hutcheon, Linda. 1984. Narcissistic Narrative: The Metafictional Paradox. Methuen: New York and London.
Kaufman, Philip. 1988. Unbearable lightness of being. The Saul Zaentz Company.
Kundera, Milan.1982. Knjiga smeha i zaborava. Grafički zavod Hrvatske: Zagreb.
Кундера, Милан. 1990. Уметноста на романот. Култура: Скопје. Lyotard, Jean-Francois. 1984. The postmodern condition: A raport of knowledge. University od Minessota Press. Mineapoliss.
McHale, Brian. 2001. Postmodernist Fiction. Routledge: London.
Poro, Antoan. 1990. Enciklopedija psihijatrije. Nolit: Beograd.
Смилевски, Гоце. 2009. Некои аспекти од претставувањето на телото и телесното од романот 'Книгата на смеата и заборавот' од Милан Кундера, Philological Studies. Faculty of Philology at Perm State University (Russia), the Faculty of Arts at the University of Ljubljana (Slovenia), the Institute of Macedonian Literature at Ss. Cyril and Methodius University in Skopje (Macedonia), the Faculty of Humanities and Social Sciences at the University of Zagreb (Croatia), and the Institute for Literature and Arts in Belgrade (Serbia). год. Vol.7 no. 2. Aveable at: https://journals.ukim.mk/index.php/philologicalstudies/article/view/663 [Smilevski, Goce. 2009. Nekoi aspekti od pretstavuvanjeto na teloto i telesnoto od romanot 'Knigata na smeata i zaboravot' od Milan Kundera].
Volkan, Vamik D. 2018. Imigranti i izbeglice. Clio: Beograd.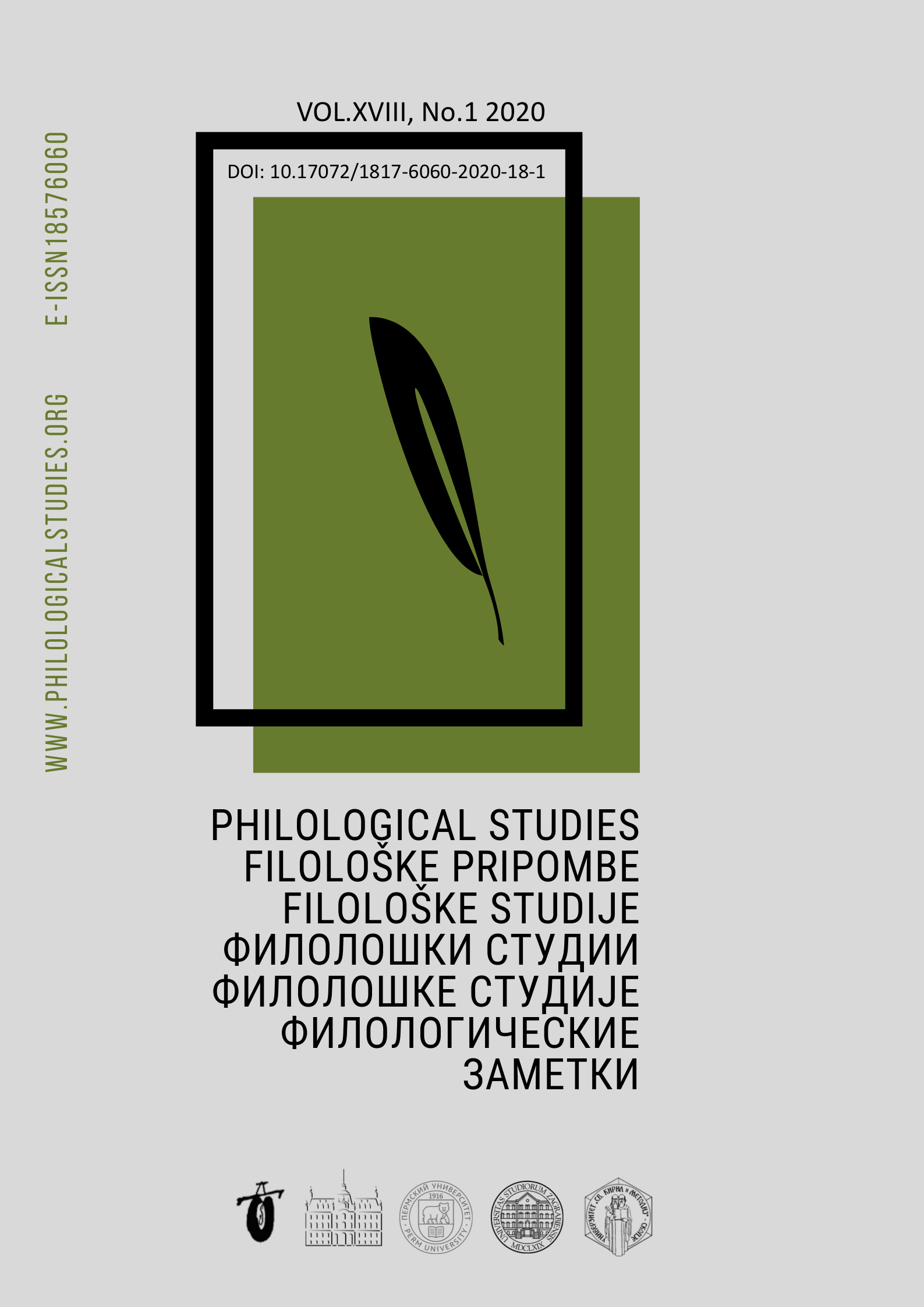 Section
Literature in Intercultural Context
Copyright (c) 2020 Jasmina Mojsieva-Guševa
This work is licensed under a Creative Commons Attribution-NonCommercial-NoDerivatives 4.0 International License.
Philological studies © 2019. This work is licensed under a Creative Commons Attribution-Noncommercial-No Derivative Works 3.0 Unported License